Tommy Robinson Attacked By Mob During Facebook Livestream
19 November 2018, 11:24 | Updated: 20 November 2018, 14:27
Tommy Robinson has been attacked while live-streaming a video on Facebook as he was on his way to watch Luton Town football club play.
In the clip, Robinson, whose real name is Stephen Yaxley-Lennon, complains about banners protesting against the Football Lads Alliance (FLA).
The Football Lads Alliance has been compared to the English Defence League (EDL), a group founded by Tommy Robinson.
Video that Tommy Robinson live streamed to his Facebook page, but later deleted, shows him walking down the road accompanied by a group of men and exchanging cross words with a crowd.
Later in the clip, a scuffle appears to break out.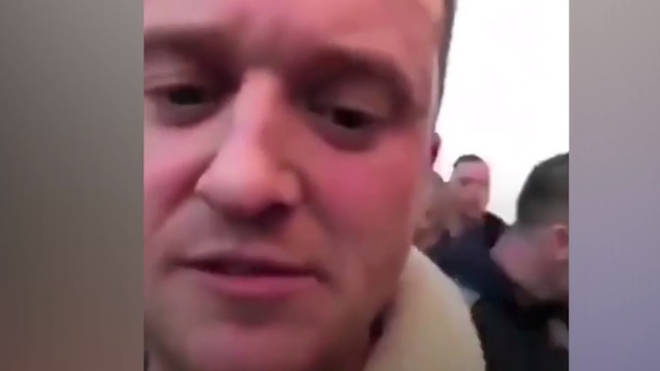 A page called Football Lads & Lasses against Fascism tweeted about his attendance at the football club, indicating that he turned up with bouncers, was confronted and told he was not welcome.
Robinson has reportedly responded, refuting that the men accompanying him were his bodyguards and stating that he has never brought EDL politics into football.
Tommy Robinson was recently freed on bail by judges, having won a challenge against a contempt of court finding.
Lord Chief Justice Lord Burnett and two other judges in London quashed a finding of contempt made against Robinson at Leeds Crown Court back in May when he was sentenced to 13 months in jail.