Your morning briefing, Sunday 17 November
17 November 2019, 08:07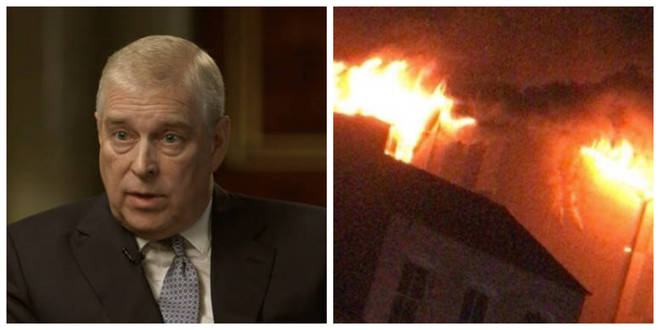 Here's the latest in UK and world news on Sunday morning.
Prince Andrew takes part in bombshell interview over Epstein friendship and abuse claims
The Duke of York has said he "doesn't regret" his friendship with disgraced paedophile Jeffrey Epstein because "it had some seriously beneficial outcomes".
Prince Andrew has been dogged by rumours of his relationship with Epstein since the financier took his own life behind bars earlier this year.
But in an extraordinary televised interview, Prince Andrew said he "didn't know" about what Epstein had been doing, but admitted staying at his home for four days after his release from jail because it was "convenient".
He also claimed the allegations made by Virginia Roberts cannot be true because he "couldn't sweat."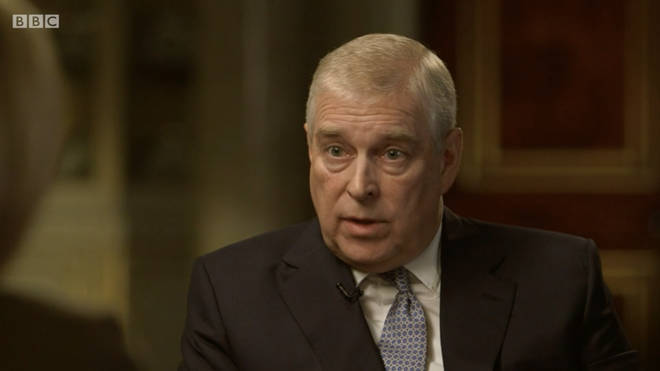 Firefighters slam UK fire safety system after two injured in Bolton student flat fire
Firefighters have slammed the UK fire safety system as a "complete failure" after a fire in a block of student flats left two injured.
It took 40 firetrucks and around 200 firefighters hours to finally quell the flames on the six-storey building in Bolton - known as The Cube - in the early hours of this morning.
Witnesses claimed the fire was "crawling up the cladding like it was nothing" as people were being evacuated, with one having to be rescued by crews on an aerial platform.
Officials have confirmed everyone from the building has now been been accounted for and an investigation has been launched into the tragedy.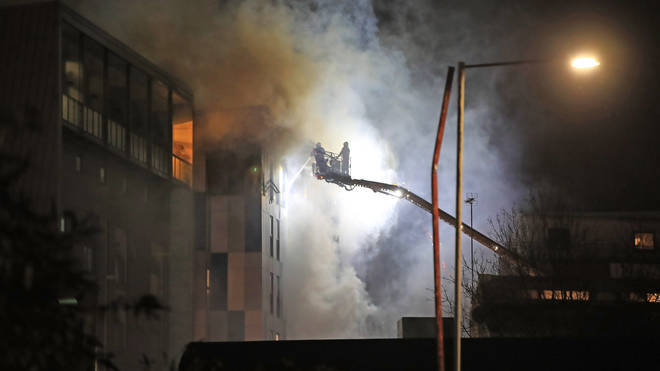 Hong Kong police officer hit by arrow as anti-government protests continue
A Hong Kong police officer has been hit by an arrow as authorities used tear gas and water cannons to try to drive back protesters occupying a university campus and surrounding streets.
Police said the arrow struck a media liaison officer, who was taken to a hospital. Photos on the department's Facebook page show the arrow sticking out of the back of the officer's lower leg.
Water cannon trucks drove over bricks and nails left by protesters and sprayed them at close range in a bid to drive them away on the streets outside Hong Kong Polytechnic University.
The push came in an hours-long stand-off that followed intense clashes the previous night.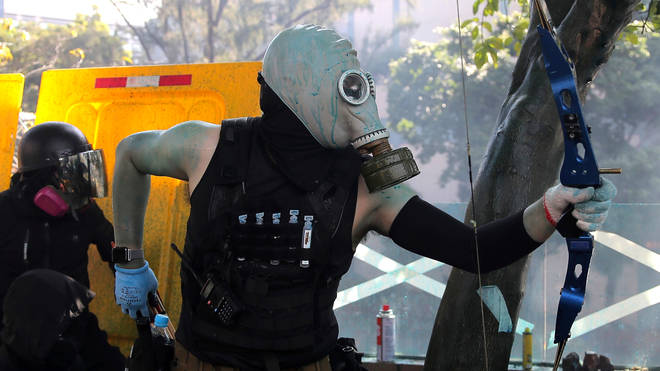 Prospect of Corbyn and Abbott running country 'makes me feel sick' says Priti Patel
Home Secretary Priti Patel says Labour leader Jeremy Corbyn would post a "chilling risk" to national security if he wins the General Election.
In an interview with The Sun on Sunday, Ms Patel claimed Mr Corbyn and Diane Abbott have "sided with and defended some of the most appalling individuals and terrorist groups."
She also criticised Mr Corbyn for his comments on the death of Isis leader Abu Bakr al-Baghdadi, in which he said he thought the terror leader should have gone on trial rather than being killed.