Your morning news news briefing, Wednesday 13th November
13 November 2019, 06:22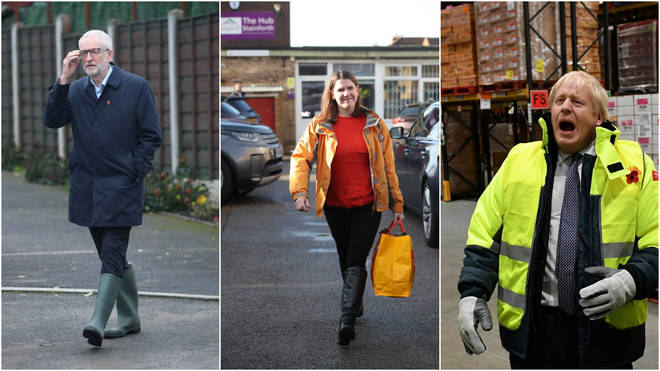 Good morning and here is the latest in UK and world news you're waking up to on Tuesday.
Well it's hump day again, when I was on my way into work this morning all I could think about was how cold it was, so wrap up warm. Morning, it's EJ here with your daily briefing.
General Election 2019 - Biblical Terms
Yesterday saw the Conservative Party embroiled in the storm that is Nigel Farage, today will see Boris Johnson face criticism for his use of language as he gives his first major campaign speech in the Midlands.
Campaigning has entered, what I like to call, the high-viz, hardhat and wellies stage as we see those who are fighting to be MPs appear in various factories and businesses clad in safety gear.
Mr Johnson will launch a blistering attack on Jeremy Corbyn later as he says a Tory government will 'end the groundhoggery of Brexit' before suggesting Labour's plans for a second referendum are the equivalent of political masturbation.
Standing Down?
A couple of candidates stood down overnight. Former Tory MP Chris Davies, who was convicted of expense irregularities and then lost his seat in a recall petition was selected as the official candidate for the Welsh seat of Ynys Mon, before standing down a few hours later.
The Lib Dems saw their candidate for Canterbury stand aside in support of the Labour candidate. Tim Walker said he feared there was a "danger I'd divide the Remainers," the Lib Dems said they would appoint someone else.
Not standing aside is Ian Bryne, the Labour candidate for Liverpool West Derby, who made a number of foul-mouthed comments about female politicians
Sources have said Labour's National Executive Committee has voted "unanimously" to keep him as the candidate for the area.
Read the full story here, by my colleague Kate Buck.
Actual Policies...
Today the Conservatives will lay out their plans to 'get Brexit done to unleash Britain's potential' by promising a Tory Government will drive a clean energy revolution which "harnesses the power of science, innovation and technology to tackle climate change, spur economic growth and create high skilled, high wage jobs."
The Lib Dems have said they will invest £500 million in youth services to help fight the epidemic of knife crime.
Labour meanwhile is promising to "rescue" the NHS with a "£26bn real terms Rescue Plan" which will be funded by taxing the richest in society.
In Other News - Floods
100 extra military personnel are being deployed to the parts of England worse affected by flooding, the move comes after Boris Johnson chaired an emergency COBR meeting yesterday the flooding in northern England.
Mr Johnson also announced up to £2,500 will be made available to all businesses affected by the devastating floods to ensure they are all prepared for the winter.
Further rain is forecast for tomorrow.
Labour leader Jeremy Corbyn called the prime minister's response "woeful", saying he would have responded quicker to the floods if they had been in the south-east, rather than Yorkshire and the East Midlands.
Food Banks
The charity which runs roughly two-thirds of all food banks in the UK has announced the last six months have been its busiest period since it opened, with more than 820,000 emergency parcels given out.
The Trussell Trust has said that more people than ever are being forced to use food banks after it had its busiest six months ever this year.
Read the full story by my colleague Maddie Goodfellow here.
And Finally...
The National Crime Agency seems to be the go-to body for bringing me news of drugs hidden in food. A few weeks ago they caught two men who were 'up to no gouda' and smuggling cannabis into the UK hidden in old pizza cheese.
Today it's cocaine hidden in meat. The NCA said more than £20 million worth of cocaine was found wrapped inside frozen meat and hidden in a lorry...
You can read the full story here.
That's it, you're up to date. Have a great day and I will be back at the same time tomorrow. EJ