The Conservative win in Uxbridge is an undeniable warning shot to Sadiq Khan over Ulez, writes Henry Riley
21 July 2023, 05:07 | Updated: 21 July 2023, 06:06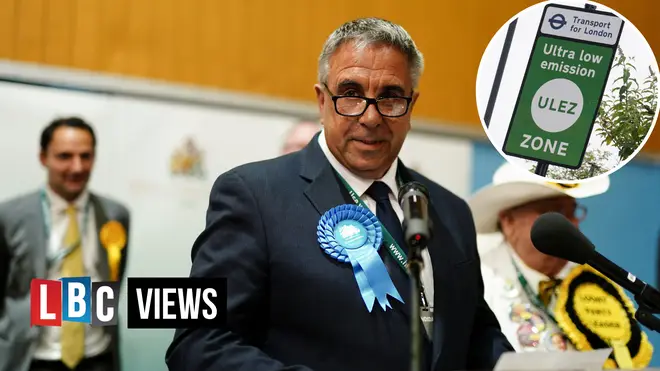 There will be a lot of finger-pointing going on at Labour HQ after the party dramatically failed to win the seat of Uxbridge and South Ruislip.
Here at the count, Labour activists – including frontbencher Steve Reed – arrived with beaming smiles, buzzing with excitement – but shortly before 2am that all fizzled out.
The party had been hoping to capture the prize of Boris Johnson's former seat relatively comfortably. When you take into account their stunning victory in Selby and Ainsty, a majority of 7,210 seemed all-too-winnable for Sir Keir Starmer. But was he thwarted by the Mayor of London?
Labour was clearly hurt by Sadiq Khan's Ultra Low Emission Zone policy and the imminent expansion of the scheme from the 29th of August.
Local Conservatives made this a 'referendum on Ulez', and it's proving to be an issue as toxic and divisive as Brexit – with fury and resentment on both sides.
The shock result defied the expectations of pollsters, Labour activists – and even the new MP Steve Tuckwell who admitted to LBC that he did not expect to win when he arrived at 'the count'.
The Labour Party in London will now be forced to do some soul-searching. Many key figures in the party clearly underestimated the electoral impact that expansion would have. I sense Sir Keir Starmer, who has been supportive of the policy, might have a quiet word with his Labour counterpart to reduce the potential damage.
A majority of 495 for the Conservatives does not even tell the full story. If you add up other anti-Ulez candidates, from Independents to Piers Corbyn, to the Reclaim Party and others – it is an undeniable warning shot to Sadiq Khan ahead of next year's Mayoral election. Even the actor-turned-politician Laurence Fox told me he would "hugely prefer" to see Labour's Danny Beales win the seat, calling for the Conservatives to be "wiped out"
Just this week Susan Hall was confirmed as the Conservative Candidate to take on Sadiq Khan. The London Mayor, who is hoping for a historic third term at City Hall, will be extremely worried about the result here – and the harm that could have on Labour's chances in the outer London suburbs.
The courts are currently deciding whether aspects of Ulez expansion are lawful, but the court of public opinion might just halt the controversial policy in its tracks.