Andrea Leadsom Says Britain's Brexit Dividend Is Likely To Be £10bn A Year
29 March 2018, 17:44 | Updated: 29 March 2018, 17:58
The UK will benefit from a so-called Brexit dividend which is likely to be in the region of £10bn a year, Andrea Leadsom has told LBC.
The Leader of the Commons and Conservative Brexiteer said the extra money would be spent on the government's "priorities" - which includes the NHS.
It's exactly one year until Britain leaves the European Union and is due to enter a 21-month transition period.
One of the most contentious issues during the referendum campaign was whether the money saved from EU membership would outweigh the possible economic impact of leaving the bloc.
But, speaking to Andrew Castle on Thursday, Ms Leadsom said there would "absolutely" be a net gain to the UK.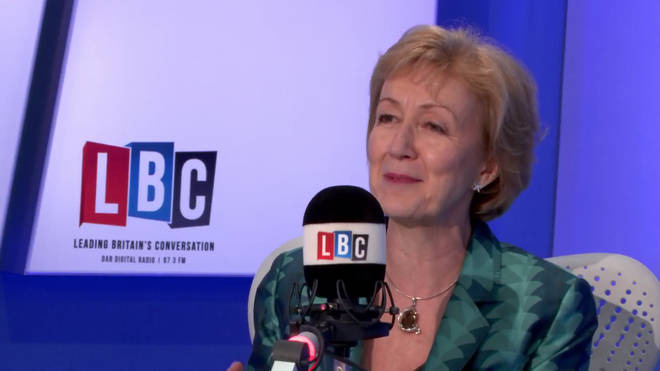 She told LBC: "The UK has been the second or third biggest net contributor to the EU.
"[The dividend] would be in the region, it depends on how you forecast the next budgets at EU level, but it would be in the region of net £10bn a year."
Ms Leadsom added: "So that would be the amount of money that we would be likely to be contributing net to the EU if we were not leaving.
"It's very roundabout and complicated but essentially yes there is a dividend from leaving the EU."