'Whatever it does, it's going to be perceived as the aggressor': Israel is in a 'difficult position' says this caller
14 October 2023, 17:01
Caller on the challenge Israel faces in dealing with Hamas militants who use civilian areas as cover
Caller Nick questioned those critical of Israel as he asked what they would do in a similar situation.
"The problem that Israel has got is that Hamas are renowned for hiding in civilian targets," caller Nick told Andrew Castle.
"They do that intentionally because they know that there is going to be damage to their people, which means, long-term, Israel is going to be perceived as taking disproportionate action," he continued.
Israel is therefore in a "difficult position" Nick expanded, as "whatever it does, it is going to be perceived as the aggressor".
He then questioned those who have been critical of Israel's actions, asking what they would do if in Israel's situation.
Quatar, Saudi Arabia, Syria and Iraq are amongst those who have condemned Israel for their treatment of Palestine and are now pinning responsibility on them for the conflict.
READ MORE: Thousands of pro-Palestine supporters march through UK cities as police warn 'people who deviate will be arrested'
READ MORE: Benjamin Netanyahu says 'the next stage is coming' to Israel troops on Gaza border as bombing continues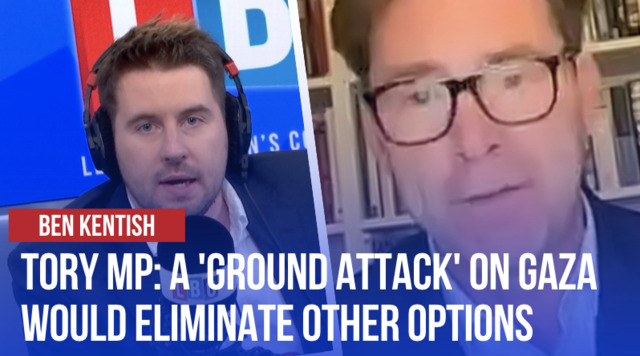 Tory MP Tobias_Ellwood: Launching 'ground attack' on Hamas would eliminate other response options
Andrew decided to leave that question "hanging", continuing: "If you can look at those images from last week and listen to accounts of what happened..."
"If you can tell me what is proportionate after that, then you know, I'd be quite happy to hear from you."
A ground invasion of Gaza is reportedly imminent following a warning from Israel on Friday for civilians to vacate the north of the country.