Andrew Marr: Labour feels like a government in waiting as authority in British politics shifts
18 May 2023, 18:43 | Updated: 18 May 2023, 18:45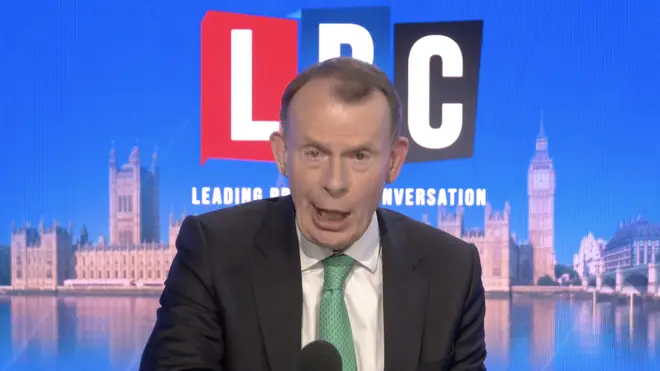 Labour feels like a government in waiting as authority in British politics shifts, Andrew Marr has said.
Opening LBC's Tonight with Andrew Marr, the presenter said he could see a shift in the political landscape as the Tories' chances of regaining power "slipped badly again" following last week's local elections and Labour "felt ever more like a government in waiting".
"Most of the time the news is a small dog, running round in circles yapping and occasionally nipping your ankles," Andrew said.
"In a word, distracting.
"So sometimes what you have to do is give the newshound a chew to shut it up as you sit back and ask yourself, what's the big picture here, what's really happened? And tonight is one of those nights.
"Following the English local election results last week, this has been a week when we have seen authority in British politics shifting. The prime minister Rishi Sunak, let's be clear, is not a small dog.
Listen and subscribe to Unprecedented: Inside Downing Street on Global Player
"He is in fact the nation's Duracell bunny, scampering around all over the place, Reykjavik one day, Tokyo and Hiroshima the next, trying to sort out this smelly pile Boris has left him, then that one, always smiling, never tired.
"Unfortunately for Duracell Bunny, it's probably too late. His party no longer knows what Brexit is for, if it ever did, and is now playing a kind of game of alternative fantasy futures, with the Boris Johnson tribute band playing in Bournemouth one day and the American republican-influenced National Conservatives jamming wildly in Central London the next.
"Their tunes included the importance of whiteness, and babies; the danger of cultural Marxists, and the decline of Christianity."
Watch Tonight with Andrew Marr exclusively on Global Player every Monday to Thursday from 6pm to 7pm
Andrew Marr breaks down how 'authority' in British politics is 'shifting'
Andrew continued: " Perhaps all this matters to British voters more than, say, inflation or the small matter of being able to pay the bills. Or not.
"It was also the week in which the UKIP leader Nigel Farage announced that Brexit wasn't working, and when Liz Truss and Kwasi Kwarteng helpfully popped up to say hello, just in case we'd forgotten.
"Speaking of unfortunate deposits needing to be dealt with, it was the week in which the former deputy prime minister Damian Green told us brightly he'd spent his childhood swimming in sewage off a Welsh beach. Which he said, with a light smile had been 'kind of acceptable'.
"Each to his own, Damian. But I have to wonder whether, as the Conservative family breaks into ill disciplined factions, this wasn't some kind of metaphor for political life more generally.
"On the other side of the divide, the Labour leader Keir Starmer promised to build lots of new houses, even on grass, and to do better deals on trade with the EU so that, for instance, we don't lose our car manufacturing industry by mistake.
You can also listen to the podcast Tonight with Andrew Marr only on Global Player.
"Overall, after the hammering the Tories got last week at the locals in England, it felt to me like a week when their chances of regaining power slipped badly again and Labour felt ever more like a government in waiting.
"But of course, as you know, journalists are terrible at predicting the future and when I'm searching for philosophical truth I often turn to the great late Leonard Cohen who wrote in his Tower of Song, 'there's a mighty judgement coming - but I may be wrong.'"