Andrew Marr: Ministers need to fix 'industrial car crash' caused by post-Brexit economy
17 May 2023, 18:51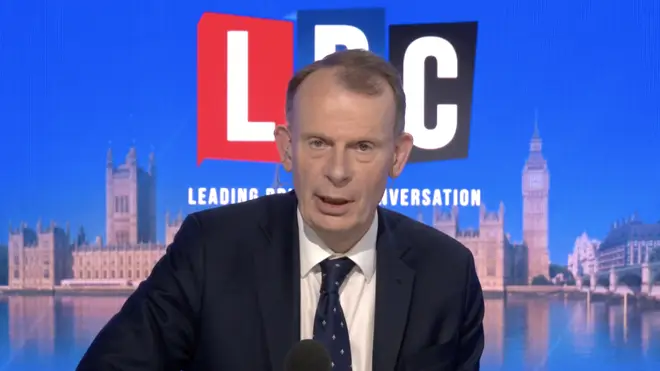 Ministers insisting Brexit has been good for the economy need to fix the "industrial car crash" caused by leaving the EU, Andrew Marr has said.
Opening LBC's Tonight with Andrew Marr, the presenter addressed car companies moving abroad as the industry goes electric.
"Question of the day: does it matter if Britain no longer makes cars?" Andrew asked.
"When I was growing up, the roads were crammed with Austin Allegros and Hillman Imps, Minis, Rovers, Morris Travellers, Capris, and even the occasional Bentley or Roller.
Listen and subscribe to Unprecedented: Inside Downing Street on Global Player
"Even as often ownership of these drifted abroad, all around us were cars designed here, built here, sold here, and of course driven here.
"But the age of the British motor may be about to end.
Watch Tonight with Andrew Marr exclusively on Global Player every Monday to Thursday from 6pm to 7pm
Andrew Marr calls on ministers to fix 'industrial car crash' that's caused by post-Brexit economy
"Blaming new post-Brexit trading rules on batteries for electric vehicles, the car giant behind Vauxhall, Peugeot, Citroen, Fiat and Jeep says it may have to move overseas putting at least 2,000 jobs immediately at risk in Bedfordshire and Cheshire.
"As the car industry goes electric the problem is really caused by Britain's lack of battery manufacturing facilities which, under the new rules, would threaten car makers here with 10% export tariffs making Britain completely uncompetitive.
You can also listen to the podcast Tonight with Andrew Marr only on Global Player.
"Stellantis – the company behind all those car brands - said it would relocate outside Britain warning that the closing of UK manufacturing will see significant job losses, the loss of a skilled workforce and a negative impact to the UK economy.
"And indeed this seems to be a real industrial car crash. In private other manufacturers like Nissan have been making the same point.
"These industry killing post-Brexit rules come in at the beginning of January next year so time is very short.
"All those ministers who've been telling us how good Brexit is for the economy need to pull their fingers out of their bottoms and renegotiate some kind of delay or get out clause with the EU very fast indeed.
"Although Britain doesn't manufacture a lot of the things we depend on in daily life somehow to me cars feel different – more iconic – perhaps this is sentimentality but we do need to make things in this country."