Tonight with Andrew Marr 06/11 | Watch again
6 November 2023, 21:23 | Updated: 7 November 2023, 14:49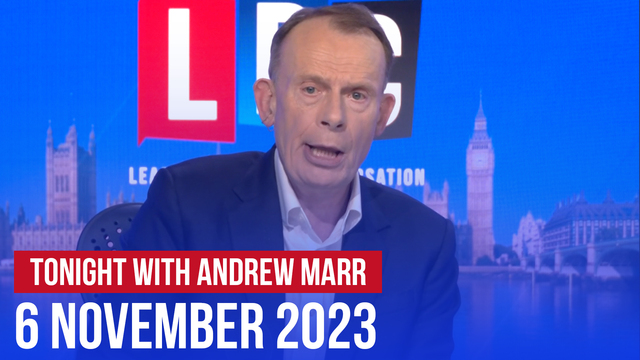 Watch Again: Tonight with Andrew Marr 06/11/2023
You can watch Monday's Tonight with Andrew Marr in full here.
Andrew Marr was joined by:
Sir John Hayes - Former Security Minister at the Home Office and Conservative MP for South Holland and The Deepings
Ragad Altikriti - Chair of the Muslim Association of Britain.
Shashank Josh - Defence Editor at The Economist.
Lord John Bird - Founder of the Big Issue.
Alicia Kearns - Chair of the Foreign Affairs Select Committee and Conservative MP for Rutland and Melton.
Natasha Clarke - LBC's Political Editor.
Dan Neidle - Founder at Tax Policy Associates Ltd. who has previously queried PPE Medpro's compliance with laws that require all firms to register the name of their executives.
Frank Luntz - US Pollster who has advised Boris Johnson and George W. Bush.
Watch Tonight with Andrew Marr exclusively on Global Player every Monday to Thursday from 6pm to 7pm https://www.globalplayer.com/live/lbc/uk/