Tuition Fees Are Unsustainable, Says Labour Peer Who Helped Introduce Them
14 August 2017, 13:24 | Updated: 22 August 2017, 09:55
A Labour peer who helped introduce tuition fees has told LBC the current cost of going to university has become so unsustainable the system "won't survive".
Lord Adonis, who headed up Tony Blair's policy unit, was speaking after a new poll found almost two-thirds of people want annual tuition fees reduced or scrapped.
The survey, by BMG Research, showed even stronger support for cutting the interest charged on on student loans - which raises to 6.1 per cent next month.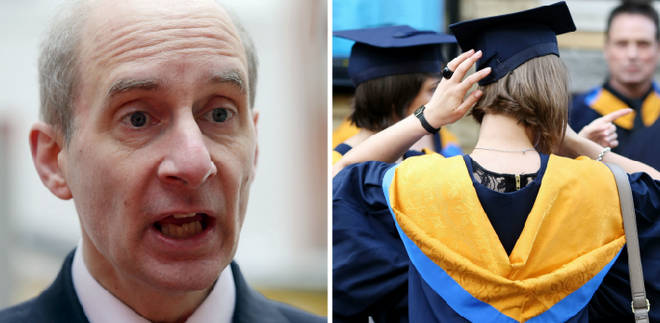 The annual fee for going to university could reach up to £9,250 at some institutions this autumn.
Reacting to the poll, Lord Adonis told Clive Bull the current system no longer offers students value for money.
He said: "It was one thing to have tuition fees at £3,000 with no real rate of interest which is what the Blair government introduced and I was largely responsible for devising.
"But it is a complete category difference to have have fees of £9,250 repaid at 6.1 per cent interest."
He continued: "The system has become unsustainable, I also [think] it doesn't offer value for money.
"Most courses, particularly arts and social studies courses, don't remotely cost £9,250 to deliver.
"There's an effective cartel taking place which is labelling all universities to charge £9,250 irrespective of the quality and students are increasingly getting a raw deal and I don't think the current system will survive."
Lord Adonis now wants university vice chancellors to cut their own salaries in a bid to reduce fees for students.
"I think if the universities lead and the vice chancellors cut both the fees and their own salaries because out of these large fees they've had a bonanza," he said.
"The average vice chancellor's salary is now £275,000 and some of them are being paid nearly half a million pounds all on the back of student fees."