Caller Compared Boris Effigy To Grenfell Bonfire Model - Until He Spoke To Darren Adam
6 November 2018, 07:04 | Updated: 7 November 2018, 04:25
This is the LBC caller who argued that the effigy of Boris Johnson at a famous Sussex bonfire was just as distasteful as the controversial one of Grenfell Tower - until Darren Adam convinced him otherwise.
Russ phoned the LBC presenter to suggest that approving of the burning of effigies of the former Foreign Secretary and of Prime Minister Theresa May at the annual bonfire in Lewes while being angry about the Grenfell effigy which went viral on social media "was double-standards".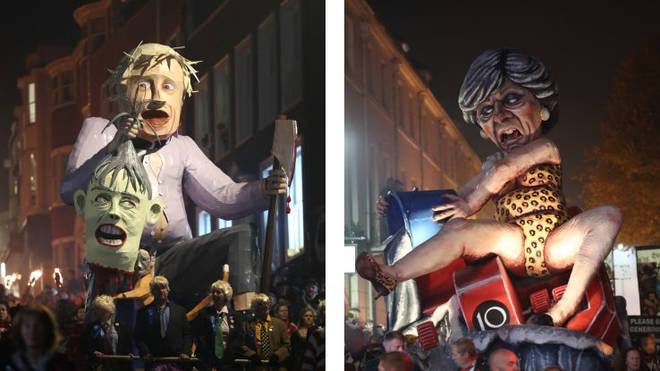 Darren denied this was the case, saying that "Theresa May and Boris Johnson didn't die in a house fire in 2017", unlike the 72 people who lost their lives when the West London tower block was engulfed in flames last June.
He added that "you might think it's distasteful, but it's distasteful in a different way, because you are not mocking 72 people who died".
Darren concluded that the revellers in Sussex were "reflecting on an ancient tradition in this country where we take people who have offended our national psyche in some way, such as Boris Johnson, such as Theresa May... None of these people are being laughed at because they are the victims of a dreadful tragedy".
Russ replied that he "totally accepts that" and that Darren "made a good point".