Caller Railing Against "Crazy Political Correctness" Stuns Nigel Farage
9 January 2018, 20:09 | Updated: 9 January 2018, 20:19
This impassioned caller railing against the return of "crazy" political correctness left Nigel Farage absolutely stunned.
Marie phoned LBC after Virgin Trains announced it would no longer stock the Daily Mail on its West Coast services.
The company, founded by Sir Richard Branson, argued the paper is "not compatible" with its "brand or beliefs".
But, the Daily Mail accused Virgin of "censoring the choice of newspapers it offers to passengers" for "political reasons".
And, that was a view backed up by Marie which took Nigel, who was broadcasting from Brussels, by surprise.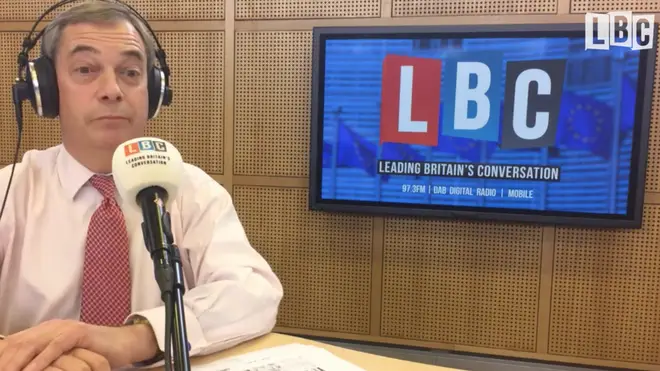 In a blistering rant, she said: "I definitely don't need protection from myself.
"What I am really getting fed up with in this country, I've noticed it creeping up, is political correctness has gone crazy.
"It's almost gone back to the days of the looney, complete looney left.
"It seems to be afflicting all sides, it's everywhere, it seems to be extremely fashionable, it's coming from all sides, right, middle, left, everywhere that sort of stuff is coming from there and I'm sick to death of it."
She continued: "I don't need to be told what to think, I want to be able to make up my own mind.
"I don't want companies to jolly well decide what I want, as long as it's legal please sell it to me.
"If there's a market for it sell it, I don't want you to make a moral judgment."
Watch Nigel Farage's reaction in the video at the top of this page.