Moment Farage Is Forced Off Air By Secret Security At CPAC 2017
23 February 2017, 20:52 | Updated: 24 February 2017, 12:23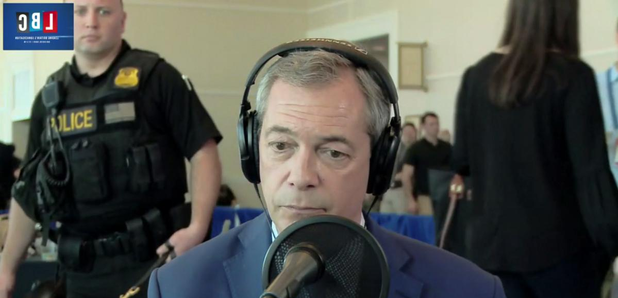 Nigel Farage was broadcasting live from the Conservative Political Action Conference in Washington when he was forced off air due to an unplanned security sweep by Secret Security.
Farage, who is due to speak at the event, was taking calls from listeners on immigration to the UK when security accompanied by dogs began to clear the conference room.
Speaking to Clive Bull, Farage said: "When a guy with a gun and a Secret Service badge comes up to you and says more than once 'move', that's what you do.
"What happened was, today there was a late addition to the speaker roster of the Vice President Mr Mike Pence.
"And the Secret Service literally decided to sweep the building clear."