Farage Offers Words Of Wisdom To EU's Tusk After Trump Outburst
16 May 2018, 20:17 | Updated: 16 May 2018, 20:21
Nigel Farage issued some words of advice to the EU's Donald Tusk after his outburst against Donald Trump today.
The President of the European Council slammed the US President, warning Trump is a bad friends who acts with "capricious assertiveness".
Speaking on Wednesday, Tusk said he was "grateful" for Trump because he had made the EU realise "if you need a helping hand, you will find one at the end of your arm".
But, Nigel warned Tusk he had bigger problems to worry about following news two populist parties in Italy had agreed a deal on most of their coalition programme.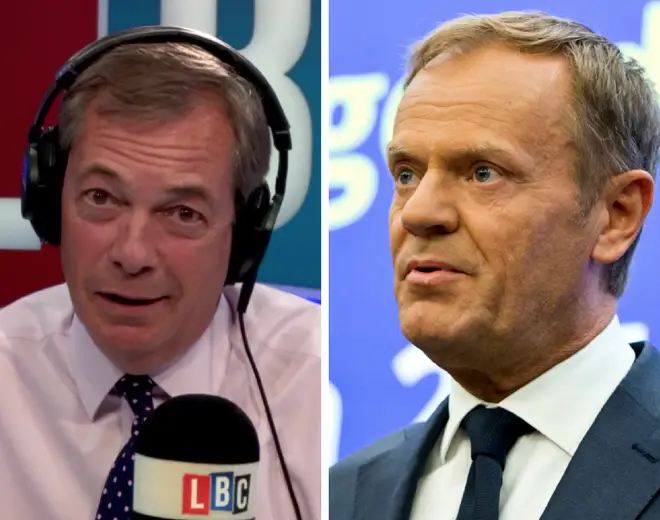 "Two leaders, one from the Five Star Movement, one from the League they've put a draft proposal for government out today," Nigel said.
"Item number one; to demand the cancellation of 250 billion euros worth of debt - that's a good start isn't it?
"One of them says there is unacceptable interference from the European Union.
"The other says he's tired of the continuous attacks from Eurocrats and this is Eurocrats telling them that their policy to tighten immigration is unacceptable to the bullyboys in Brussels."
After listing more of their proposals, Nigel finished: "So the whole European project is crumbling, the third biggest country in the eurozone is in open revolt against the whole system and all Donald Tusk can do is say a few sad words about Donald Trump."
Watch Nigel's take in full above.