More Good Brexit News You Ought To Know About - Nigel Farage
26 February 2018, 20:10 | Updated: 26 February 2018, 20:11
Amid all the Brexit doom and gloom, there's an abundance of positive business news out there and Nigel Farage is determined to ensure it doesn't go unnoticed.
The LBC presenter regularly updates listeners on business success stories which often go under reported.
And February is no exception for positive post-Brexit vote news.
Offering up his latest "Business Brexit Briefing", Nigel said: "The demand for office space is a good barometer of economic activity.
"The real estate advisers CBRE report that London's businesses took up an additional 1m sq ft of office space in November last year - the highest monthly figure since 2004 - helped by big deals for Lloyds Banking Group.
"Other banks appear confident about London too.
"We learned last week that planning permission has been granted for Deutsche Bank's new London headquarters and the giant Japanese Bank, Sumitomo Mitsui, signed up for 161,000 sq ft at the Broadgate development near Liverpool Street station."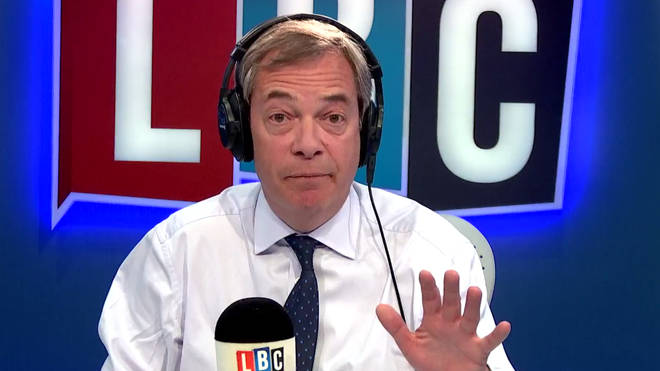 He continued: "The confidence of the financial services sector helped investment in central London offices swell by 26 percent last year to £16.4bn, and 81% of this investment came from overseas.
"Investors from Hong Kong seem particularly keen - spending £5.9bn and contributing towards 13.2m sq ft of London office space being taken up in 2017 - the highest annual total since 2001."
"Meanwhile in manufacturing the Airbus CEO, Tom Enders, confirmed plans to be in the UK 'long into the future' viewing the UK as 'a home country and a competitive place to invest'.
"Even the BBC last week had to report that in the second half of 2017 the UK's productivity grew at its strongest rate since the financial crisis almost ten years before.
"Output per hour rose 0.8 percent in the final quarter of 2017, following close on the heels of a 0.9 percent rise in the previous quarter.
"The ONS reported that wages rose by 2.5 percent in the last 3 months of 2017 and the number of people in work increased by 88,000 - offsetting concerns about a slight rise in unemployment to 4.4 percent."
He finished: "With inflation still at the 3 percent mark, there is increased speculation that the economy is doing well enough for the Bank of England to consider a rise in interest rates earlier than might otherwise have been expected."