Nigel Farage Absolutely Lets Rip At Jean-Claude Juncker's Response To Catalonia
3 October 2017, 19:57 | Updated: 3 October 2017, 20:35
Nigel Farage has used his nightly LBC show to deliver the most devastating condemnation of Jean-Claude Juncker's response to the police brutality in Catalonia.
More than 850 people were injured in Spain on Sunday when police used rubber bullets and batons against voters in a bid to stop a referendum on independence, banned by the government in Madrid.
The European Commission has been criticised for not condemning the violence after it described the crisis as "an internal matter" for Spain.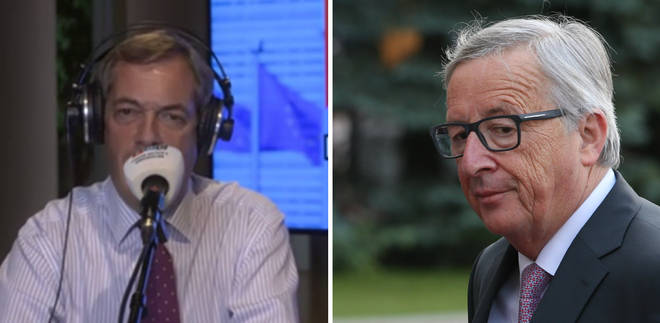 The commission's president, Mr Juncker, was also silent on the matter during his speech to the European Parliament in Strasbourg on Tuesday.
That left Nigel furious, as he let rip at the Eurocrat during a very impassioned rant on LBC.
Broadcasting from Strasbourg, he fumed: "Can you imagine if the British police beat up a couple of anti-Brexit demonstrators with the EU flag or if they'd stopped in 2014 one or two of those thuggish types from the SNP who wanted Scottish separation, can you imagine?
"Gosh we'd be hauled straight before the European Court of Human Rights and we would be declared to be behaving like a third world country.
"And yet in the case of Catalonia Mr Juncker tries to go through the whole debate this morning completely ignoring it."