Nigel Farage Has To Calm Angry Caller Down After Her Theresa May Rant
18 January 2018, 20:24 | Updated: 18 January 2018, 20:30
Nigel Farage had to calm an angry caller down after she embarked on a savage rant about Theresa May.
Lorraine was furious with the Prime Minister after she agreed to pay an extra £45m to bolster security at Calais.
The new cash was announced during a summit between Mrs May and French President Emmanuel Macron on Thursday.
But, this caller accused the PM of a "sell out" as she headed on her tirade.
"She needs to go," Lorraine thundered. "She definitely needs to go.
"I mean we've given her too many chances, she just needs to go."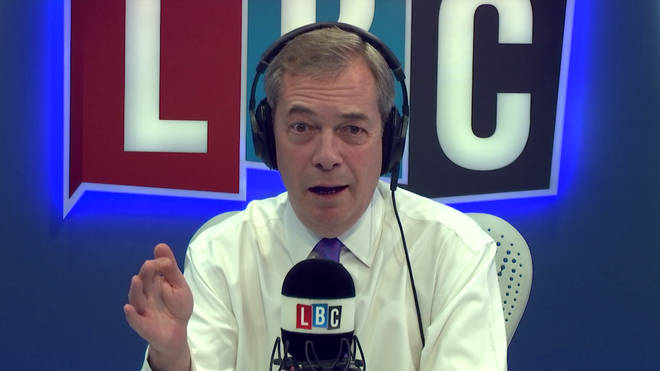 Nigel asked whether he thought the PM was "spineless", to which Lorraine replied: "Spineless? Spineless? She's gutless, she's spineless, I can't even bear to look at her face, she makes me sick.
"I just can't bear to look at her, who am I going to vote for? I can't vote for Conservatives, I can't vote Labour, I can't vote Ukip - who do I vote for?"
As the call rumbled on Nigel ended it with some sound advice: "Calm down as the evening goes on, otherwise you won't be able to sleep."
Watch it unfold above.