Nigel Farage: "I Can't Monetise Independence, I Can't Monetise Democracy"
13 September 2018, 20:01
The LBC presenter clashed with a caller demanding a figure on how much money Brexit would cost the UK economy.
With the Brexit Secretary, Dominic Raab, saying that it's easy "for any business that isn't doing rather well" to blame Brexit, Nigel was discussing how fed up he was about the constant negativity surrounding the leaving process.
After inviting callers to phone-in, Moniash from Southall rang to challenge Nigel on the true cost of a No-Deal Brexit.
The caller criticised the LBC presenter for not evaluating the price of leaving the European Union through a thorough "Cost-Benefit analysis."
Nigel said: "The problem with economics is that people will always disagree. But let me tell you about one Cost-Benefit analysis I did do personally.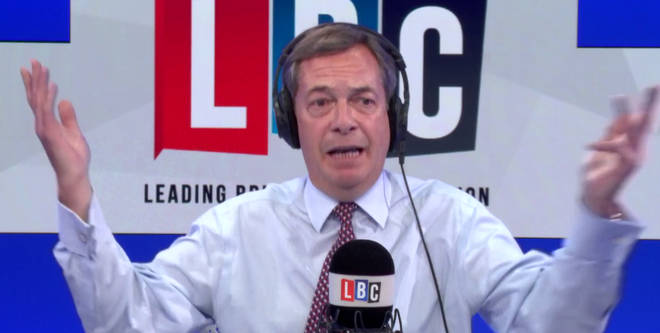 "I couldn't come up with a figure because I couldn't work out what freedom was worth. What is freedom worth?!"
Moniash replied: "No you're wrong. If you can't come up with a figure and you're making a huge decision..."
But Nigel interrupted: "I can't! I can't monetise independence! I can't monetise democracy!"