Nigel Farage's Feisty Response To Remainer's Tough Questions
17 January 2017, 18:56 | Updated: 18 January 2017, 07:42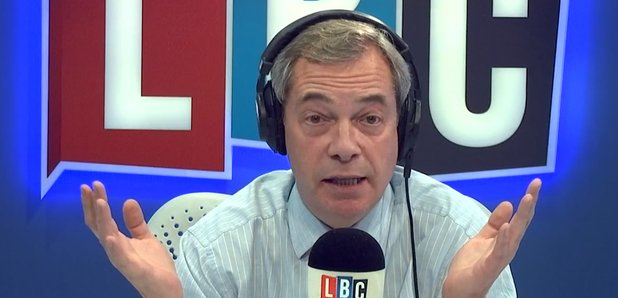 A staunch Remainer and Nigel Farage go toe to toe over the future of Britain and the Leave camapign, in the aftermath of Theresa May's big Brexit speech this morning.
Anthony called The Nigel Farage Show with a list of very tough questions for LBC's newest presenter, the former leader of Ukip.
"I think you've done more damage to this country than Oliver Cromwell managed to do," said Anthony, "Why are we jumping off a cliff? There's no need!"
But Nigel had a very feisty response: "You're quite right Anthony!
"Democracy's valueless. We shouldn't have bothered to fight the wars, we should have just allowed dictators to take us over. What's the point in voting to determine your own future?!"
An emotional-sounding Anthony pressed Farage on the "lies, lies and more lies" he says made up the Leave campaign.
But Nigel, as always, was up to the challenge: "A vote to Leave means we're in control again.
"We are in charge of our destinies...that is what this was really all about."
Anthony kept pressing Mr Farage though, asking why he did "the easy job" of agitating for Brexit and then quit as Ukip leader when he was needed most.
"I haven't completely walked away," responded Nigel. "Once Article 50 is triggered, I will be part of that negotiating process.
"I promise you this Anthony.
"If May as Prime Minsiter performs as badly on this fine speech as she did on her speeches on immigration, I will be back on the frontlines."