Nigel Farage On The Brexit Boat: We've Given Our Fishing Trade Away!
21 March 2018, 13:01
Nigel Farage joined protesters onboard a boat this morning to throw dead fish into the Thames outside Parliament.
The demonstration took place against the Brexit transition deal, largely agreed by the UK and EU on Monday.
The fishing industry is unhappy that Britain will not take control of its fishing waters when it leaves the EU in March 2019.
So they boarded a Holladays R8 which had sailed up from Whitstable to show their disgust and prove a point about fishing quotas.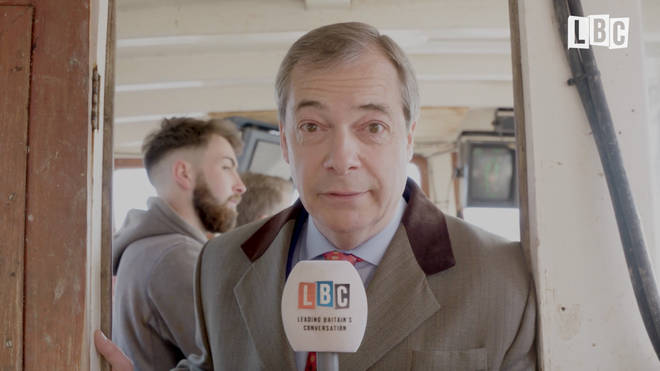 Speaking to LBC live from the River Thames, Nigel said: "It's a fishing boat and like all small fishing boats in this country, it's struggling terribly with the Common Fisheries Policy (CFP).
"They're not allowed to catch the fish that are in our waters. Why? We've given it all away to the foreign fleets.
"And what is Theresa May doing about it? Nothing! So today we've been here with some boxes of haddock that are over quota and we dumped them back into the River Thames."
He finished: "Not only because the CFP is bad for the industry, not only is it bad for anglers, but it's bad for the environment too and it's high time our Prime Minister stood up and did something."