Nigel Farage Predicts Conflict With North Korea Is "Probable" In The Future
29 August 2017, 18:12 | Updated: 29 August 2017, 18:21
Nigel Farage says conflict with North Korea is "probable" in the future after the rogue state fired a missile over Japan early Tuesday.
It was the latest provocation from Kim Jong-un's regime, who had previously been warned by the White House it would be met with "fire and fury" if it threatened the US or its allies.
The US President said "all options are now on the table" and vowed to work with the Japanese to increase pressures on the isolated state.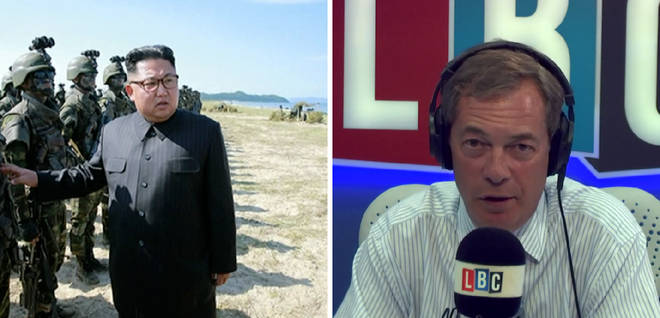 Theresa May also spoke out against the launch, which broke up and landed in the Pacific Ocean, describing it as a "reckless provocation".
Nigel, who was standing in for Iain Dale, said Kim was a "dangerous" man and said the launch was "worrying" and "pretty frightening".
The LBC presenter said the US President had been "clear" with his message to Pyongyang and would "not back down" if it came to it.
He said: "Maybe Trump went a little bit far with the rhetoric two or three weeks ago, we're not headed imminently for a war but I do think at some point in time we're are probably headed for a conflict."
Watch his take in full at the top of this page and you can catch Nigel Farage on LBC all this week, 4-7pm.