Nigel Farage Slams EU For Holding Britain "Hostage" During Brexit Talks
29 August 2017, 18:56 | Updated: 30 August 2017, 11:57
Nigel Farage blasted the likes of Michel Barnier and Jean-Claude Juncker for trying to hold Britain "hostage" during the Brexit negotiations.
The EU has continued to ratchet up its rhetoric against the UK's negotiation team in Brussels.
Mr Juncker, the president of the European Commission, said the position papers produced by the British government on different Brexit issues aren't "satisfactory".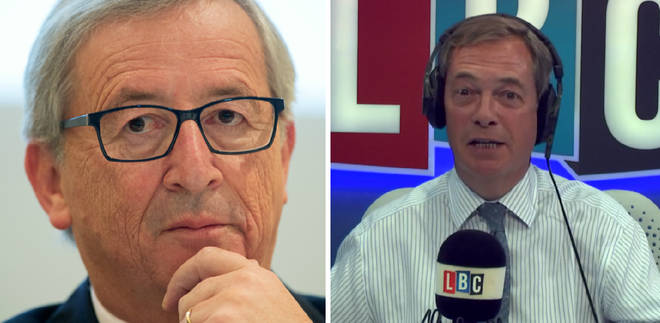 The EU wants to settle Britain's so-called Brexit divorce bill before talks begin on the new trade relationship with the UK.
Nigel, however, is simply getting fed up with what he is hearing from the continent.
Sitting in for Iain Dale, he said: "It's rather like a ransom, they're treating us like we're a hostage. We're not, we're free to go.
"We're free simply to walk away, I don't want it to come to that, but unless they're prepared to compromise then I just don't see quite what David Davis can do."
Watch his passionate take in the video at the top of this page.