Nigel Farage Tells The Truth About THAT Meeting With Julian Assange
29 October 2017, 14:37 | Updated: 29 October 2017, 14:41
The Observer today alleges that Nigel Farage is part of an "unholy alliance" with Trump, Assange and Bannon. They couldn't be more wrong.
"Trump, Assange, Bannon and Farage are bound together in an unholy alliance" screams an Observer headline today.
The newspaper asserts Nigel Farage has been acting as a courier between the American president and Wikileaks founder Julian Assange, holed up in London's Ecuadorian embassy.
The LBC presenter apologised to the paper that he was, sadly, not part of a grand conspiracy and explained what happened when he met Assange.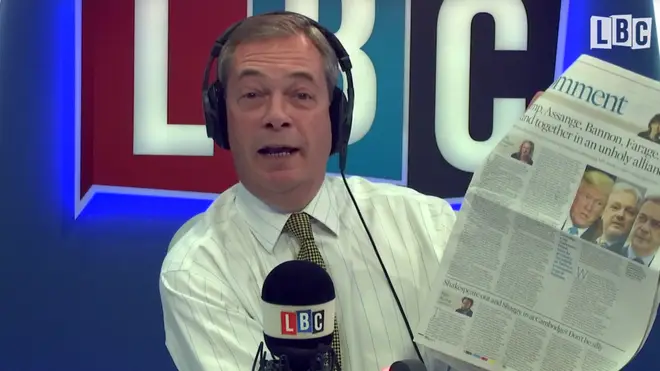 The meeting was actually facilitated by LBC, and as such was attended by Nigel Farage's producer Christian Mitchell.
Nigel mockingly suggested "Unless, of course, LBC are part of the conspiracy?"
He said: "It would appear that I am the bagman, I am the one running messages and exchanging information between the president of the USA and Julian Assange. I am the bag man.
"Well let me just tell you, this is a complete lot of baloney. I have said it before, I will say it again. The reason that I met Julian Assange was because somebody at LBC organised it, and not only that, when I went to meet Julian Assange I took with me my producer from LBC.
"If I was running some special mission for the U.S. president, do you really think I'd have taken an LBC producer with me?
"Unless, of course, LBC are part of the conspiracy. Perhaps that's what we'll read next Sunday?
"No we won't because they're not."
Watch the full take down at the top of this page.