Nigel Farage's Brilliant Response To Theresa May's Troublesome Speech
4 October 2017, 19:59 | Updated: 4 October 2017, 20:30
Nigel Farage has recalled a number occasions it all went wrong for him as Ukip leader during a brilliant response to Theresa May's troublesome speech.
The Prime Minister's deliverance at the Conservative Party conference was marred by coughing fits, a sore throat and an interruption from prankster Simon Brodkin.
Nigel described the ordeal as "cringe-makingly awful" as he recounted a number of similar occasions when it didn't go quite to plan for him.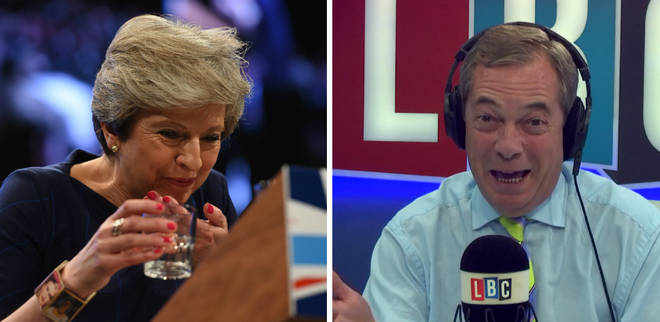 - Nigel Farage Says Jacob Rees-Mogg Is The "Right Guy" To Be Next Tory Leader
Speaking on his nightly LBC show, Nigel said: "I remember the manifesto launch in 2015 down in Thurrock and I was really unwell, really suffering, high temperature, I was struggling, I was sweating which of course led the commentators all to write about about the booze the night before because you know there isn't much sympathy in politics.
"I also remember the first ever Ukip conference in 1993 at the London School of Economics and during the national anthem at the end the Ukip sign fell off the stage on to the floor."
But, amid his light-hearted reaction, the LBC presenter did have a stern message to offer the Tory party.
He continued: "I just think all of this personality, messaging, the team, I think it's all a complete disaster and to me her only real achievement as prime minister is by calling that early election she has breathed life into an old fashion form of hard-Left socialism in the shape of Jeremy Corbyn and his sidekick John McDonnell.
"I believe that Corbyn will win the next election if Theresa May stays as prime minister."