Senior Trump Adviser Explains Why The President Threatened North Korea
9 August 2017, 19:05
A senior White House adviser has told Nigel Farage the reason Donald Trump has ramped up his warnings to North Korea.
During an exclusive LBC interview, Stephen Miller, the President's Senior Policy Advisor and speechwriter, claimed it was all part of the Republican's plan to "make the world a safer place".
In the past 24 hours, Trump promised "fire and fury like the world has never seen" if Pyongyang escalated the nuclear threat it poses.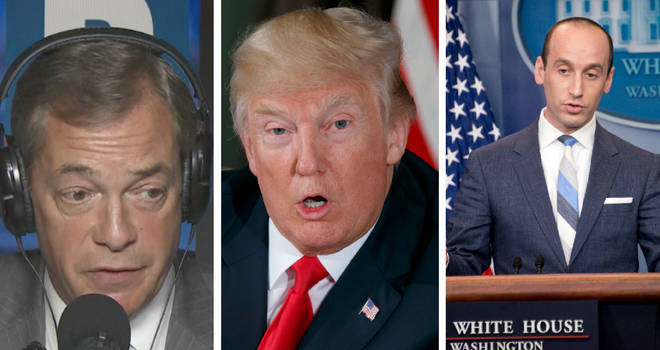 Hours later, the rogue state retaliated - saying it was "carefully examining" a plan to strike the US Pacific territory of Guam.
The US Secretary of State Rex Tillerson has attempted to calm the situation, telling reporters on Wednesday there is no imminent threat from North Korea.
Mr Miller, who is widely tipped to be the next Communications Director for the White House, argued it was further evidence Trump was correcting years of "failed" foreign policy the President had inherited.
He told Nigel: "If you look at what we've accomplished with our trip overseas, say to Saudi Arabia and the call for cracking down on the financing of extremism and encouraging countries in the Middle East to take greater charge of their own affairs.
"And you see the engagement of the world community on North Korea. You see passage of the UN Security Council resolution with the votes of China and Russia on North Korea - we are making the world a safer place."
He continued: "Look at the policies of the last 10, 20 years on foreign policy matters which has produced the situation we've inherited.
"We were voted to change course and that is what this President is doing."
Watch the full interview below.