Steve Bannon Clashes With LBC's Political Editor Theo Usherwood Over Tommy Robinson
15 July 2018, 13:02 | Updated: 23 October 2018, 15:15
Donald Trump's former strategist Steve Bannon clashes with LBC's political editor Theo Usherwood over Tommy Robinson.
Steve Bannon said that he didn't think Tommy Robinson was "a bad guy", and that "he's got to be released from prison."
But LBC's political editor, Theo Usherwood, stepped in: "But he broke the law!"
"It's was a highly technical..." Bannon started.
"No let me finish," Theo said. "Tommy Robinson, by what he filmed outside that courtroom, he broke the law."
"A lot of people would say that law is very restrictive," Mr Bannon said.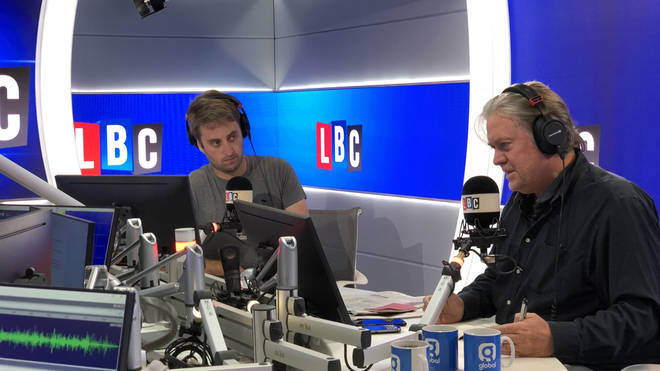 Nigel Farage attempted to move the conversation along, but the pair continued to argue the Robinson case.
"Are you a news guy?" Bannon asked.
"Brother, brother, stop. Stop. You gotta go a lot better..."
But Nigel ended the row with a booming final statement: "I take the view as well, that Tommy broke the law."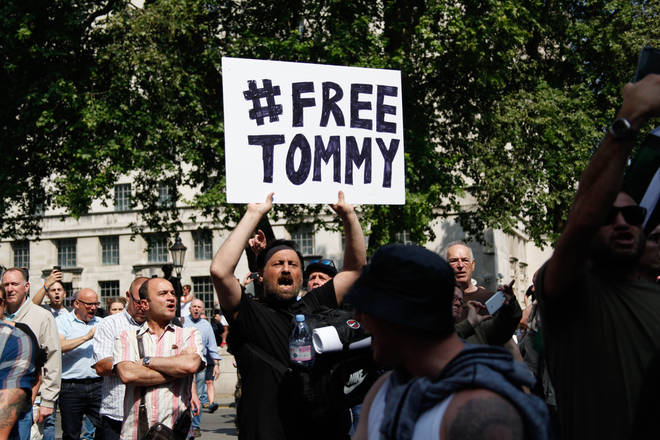 Tommy Robinson was arrested by police outside a court in May for 'breaching the peace' during a grooming trial.
The activist was live streaming men entering Leeds Crown Court on Facebook when officers arrested him.
He was jailed for 13 months for breaking contempt of court laws.