Theresa May Fan Tells A Worried Nigel Farage: Relax, Brexit Is In Safe Hands
7 November 2017, 20:23
Nigel Farage is worried Brexit will not be delivered under Theresa May, so one supporter of the Prime Minister called LBC to try and settle his nerves.
The outspoken politician believes the PM will be out of a job by Christmas after a new poll showed public confidence in her ability to strike a deal had fallen.
In June Mrs May had 44 per cent of the public's backing, that dropped to 34 per cent following the snap election and now it sits at just 26 per cent, according to the survey.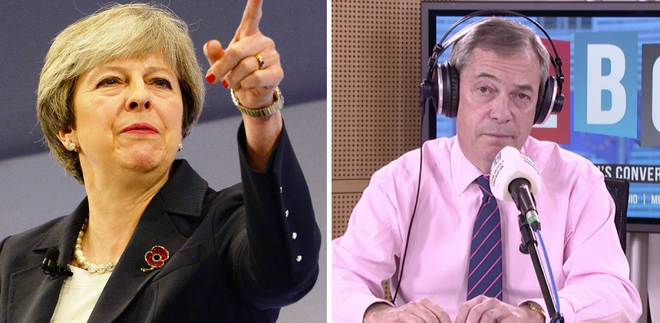 And with her Cabinet in disarray, Nigel struggled to see her surviving in the role for much longer.
But, his remarks prompted Ben to get in touch who told the LBC presenter: "Nigel, you've got to let it go.
"This obsession with trying to take down Theresa May… give this woman a break, she's handling a very difficult time in the country's history.
"She's a very calm, very wise, intelligent woman."
He added: "Nigel, don't panic mate. Don't panic - you won the referendum, the Brexit is going to go through, alright?"
Watch above and see if you agree.