Labour MP Tells Stig About Heartbreaking Reality Of Living With Alcoholic Parent
19 February 2017, 16:54 | Updated: 20 February 2017, 14:04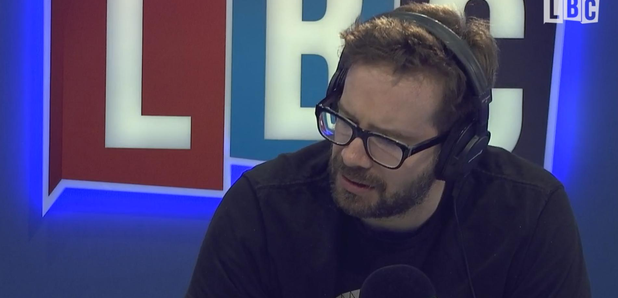 Labour MP Caroline Flint, Member of the All Parliamentary Group for Children of Alcoholics, spoke to Stig Abell about her own experience of living with an alcoholic mother.
On his Sunday afternoon LBC show, Stig Abell was speaking about reports of children of alcoholic parents ringing a helpline to hear bedtime stories.
Caroline Flint, Labour MP for Don Valley and a Member of the All Parliamentary Group for Children of Alcoholics, spoke to Stig about her own experience living with an alcoholic mother, who died aged just 45.
We can act to help this generation of children & the next @NacoaUK https://t.co/bX0CvqjpoN

— Caroline Flint (@CarolineFlintMP) February 19, 2017
Caroline told Stig: "Well it's important to me because my mother was an alcoholic and from about the age of 12/13 alcohol took hold and pretty much was, very much part of her life, but also part of mine and my family's life as we got older.
"Sadly my mother died at the age of 45 and alcohol was the significant factor in all of that...it's taken me a long time to feel that I could speak publicly about this.
Caroline said that some other MPs who had experienced alcoholic parents came together to work with the National Association of Children of Alcoholics (Nacoa) because "they felt they wanted to do something" because the issue had been "overlooked for far too long".
The Labour MP then went onto describe some of the experiences she had with her mother. She said: "You are ashamed of what's going on. You go to school and you don't know what situation you're going to come back to.
"You can't share it with friends, you get very clever at covering up for whats' going on, and that's something that children, like myself, have gone through.
"Then as you get older, it doesn't stop, because part of it is as well, is that you love this person, even though on days you may hate that person, and you don't want everyone to think badly of your parent.
"My mum was a lovely, kind person, and thankfully the first part of my childhood was extremely happy, in many respects, without the shadow of alcohol bearing over it."
Later on in the programme Stig spoke to another caller, Siobhan, about her unbelievable experience with alcoholism.
She told Stig that her mother didn't start drinking until she was about 36 and blamed it on having a late child, which resulted in post-natal depression.
Siobhan said: "Me and my sister...on the way home from school, we used to cross our fingers on the way home from school and we used to worry and think 'what are we going to find?', 'is she going to be OK today?', or 'are we going to find her behind our door?'.
"She's quite a large lady and many a time we used to come home and find her. And she rides a bicycle, and my dad would say 'oh she got knocked off again' this, that, and the other.
"To see your mother bruised and battered, I thought to my self 'I'm never going to pick up a drink'.
Siobhan said she moved away, got married, and had a child, still keeping in touch with her alcoholic mother.
She added: "I used to have a Malibu at Christmas and get tipsy. But I'm not 41, 42, and at 38 I picked up some cider. And another cider, another cider.
"A year and a half ago I was rushed to hospital. My friend rushed me to hospital, and I was in a coma for nine and a half months."
She went on: "I had to learn to walk again, talk again, eat again and I went back to live with my parents, and I was totally, totally fine. And I thought that was my rock bottom. But that was just the start."
Siobhan continued: "As son as I was able to walk, I'd go down to the little shop and start drinking."
The caller told Stig that she then spent nine months in rehab, but in the past three months she has slipped back again to drinking.
Siobhan said: "When I was nine months clean and sober, I was the happiest ever in m life, and now I'm not happy at all. They say one drink is never enough, a thousand's too many.
"Just picking up that first drink, don't do it, because I've done that and I'm in a state now."
Siobhan added that her daughter, 21, is doing fine, doesn't drink or smoke, and they keep in contact regularly.
She said that she is working to make her life better again, telling Stig: "I go to my meetings, I do everything; I pray, I meditate, but it's just that first drink...don't do it, don't pick it up."
Details of help and advice can be found via the Nacoa website here.