Salmond Challenged Over 2nd Referendum
3 February 2016, 17:31 | Updated: 31 August 2016, 13:37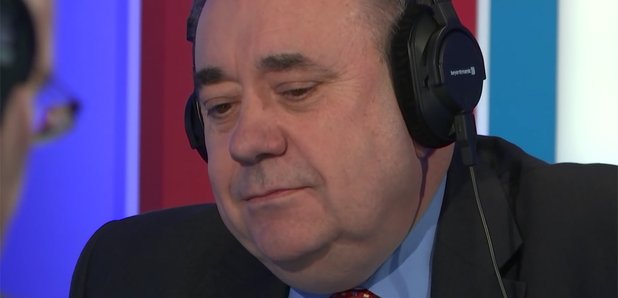 Caller Andrew in Halifax tells Alex Salmond he promised to "abide" by the vote in the Scottish independence referendum - so why isn't he doing that?
"You agreed that you would respect the outcome of the referendum," said Andrew. "You're clearly not inclined to do that, neither is your party."
Alex Salmond tried to explain that if the UK voted to leave the EU, it would be such a major change that it might warrant a second independence referendum.
Andrew, calling from Halifax, didn't let the former First Minister away with that: "We joined the then EEC as one country, we will either stay or we will leave - as one country."
Salmond responded: "You can't just leave the European Union like that, it takes years to get out...in that period, if the pressure for another referendum becomes irresistible, it will be like King Canute trying to hold back the tide at Westminster."
The clash didn't stop there - take a listen above to hear it all.
The Alex Salmond Phone-In, Live on LBC every Wednesday at 4pm.