"The One Thing May Must NOT Do When She Meets Trump"
25 January 2017, 16:33 | Updated: 25 January 2017, 16:48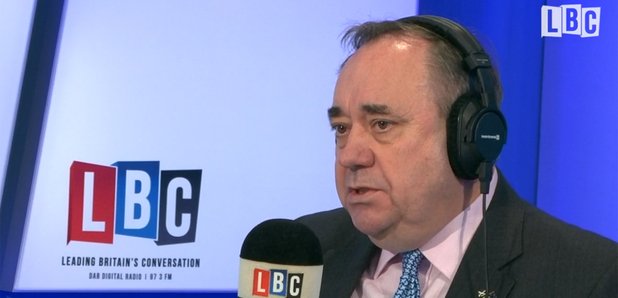 Alex Salmond has plenty of experience with Donald Trump - and he's got some words of wisdom for Theresa May ahead of her meeting with the new US President on Friday.
"You never, ever negotiate with Donald Trump from a position of weakness," said Salmond. "Believe me, I know this from personal experience.
"She should state clearly, unambiguously the points of disagreement...she should not, at any cost, bring up the supposed trade deal as her first point of business.
"I can't think of two people who are more polar opposites than Theresa May and Donald Trump
"I can't think the small talk's going to be huge."
And on the question of whether Nicola Sturgeon would meet Trump, Salmond said: "You've got respect the office.
"You can't ignore the President of the United States when you're in office."