Enraged Dad Wants Farage To Answer For Trump
27 November 2016, 10:41 | Updated: 28 November 2016, 09:40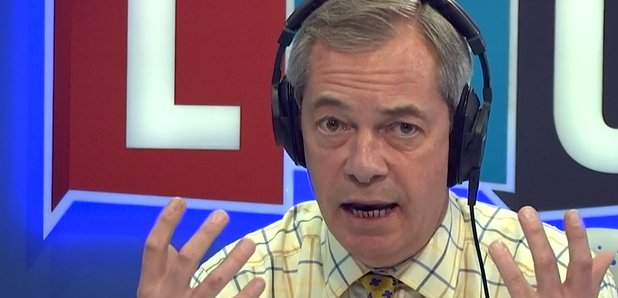 After furious listener Paul called Nigel Farage to have a go over Brexit and Donald Trump, the former Ukip leader stood his ground and put the caller on the spot.
Paul's kids were in the back of the car with him and when he heard the Nigel Farage was standing in for Katie Hopkins on LBC today, he pulled over and called up.
"In a year or a year and a half's time, you will be Britain's most hated man," said Paul. "I'm an average guy, I've got four children, I've got my son in the back of the car asking me: are Mexicans rapists?
"My son is scared."
"And you want to be the Ambassador? It's ridiculous...I can't even say some of the stuff that he's said.
"I remember you saying: 'We've got our country back.' Well my country is gone. I've got Polish friends being told to go home."
After Paul had made his case, Nigel told him to look at how Trump has spoken since he won the election.
"Whatever you think about Trump and his comments about Mexicans, or whatever it may be, the fact is he is becoming President.
"Are you suggesting we withdraw our Ambassador?
"Show your son the two speeches that Trump has given to the nation in the last week where he has been absolutely magnanimous in victory. He's talked about being the President for all Americans.
"Sometimes things get said in election campaigns that are bitter, heated and I think people are quite capable - Donald Trump himself - of, at times, going over the top.
"But I would urge you Paul, if your son is scared about the next US President, look at those addresses to the nation.
"I hope it sets your mind at rest at least a little bit."
Farage also spelled out his plans to visit the US again next week, where he said he'll ask forgiveness for things British politicians said about Donald Trump: