Jacob Rees-Mogg's Response To British Airways Possibly Becoming Spanish After Brexit
12 November 2018, 09:51 | Updated: 12 November 2018, 10:37
British Airways are in talks with Spain's government about becoming a Spanish company in the event of a no-deal Brexit. This is Jacob Rees-Mogg's immediate response.
Spanish newspaper El Pais reported that parent company International Consolidated Airlines Group is in talks to be considered a Spanish company after Brexit.
The news broke while lead Brexiteer Mr Rees-Mogg was live on his LBC phone-in - and this was his response.
He said: "Everyone has said, from the President of the European Council downwards, that flights will continue after the 29th March. I don't see why we should disbelieve them.
"But on the other hand, it's always sensible of companies to make plans for things going wrong. That's what businesses do.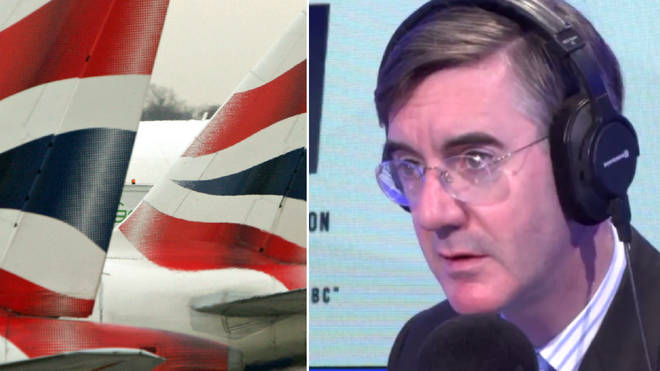 "I think this crashing out terminology is very misleading. It would be a clean break. We would leave the European Union, we would be out by the 30th March. We would have no further legal obligations to the European Union.
"And we would be able to make our own decisions about British public life and policy. I think it's easy to use a form of language that creates and unnecessary fear and concern.
"But businesses should of course prepare for the unexpected. It's what they do."