Police Kicked Homeless Woman Out Of Warm Corridor And Into The Cold
28 February 2018, 09:45 | Updated: 28 October 2019, 15:10
Police forced a homeless woman to go out into the cold after moving her on from the warm car park corridor she was sleeping in.
As temperatures dropped to minus 11 in parts of Britain, LBC went out with homeless charity Nightwatch last night.
And they were most concerned about one rough sleeper, a middle-aged homeless woman called Jo.
Speaking to LBC's reporter Rachael Venables, Jo said: "I was in the corridor of Q car park and three police officers kicked me out.
"They told me that people pay a lot of money to live in those flats and they don't really want people dossing in the corridor.
"All I said to them is it's freezing out there. I just got up and left. It seems like whenever I find places like that, I get kicked out. It's too cold at the moment."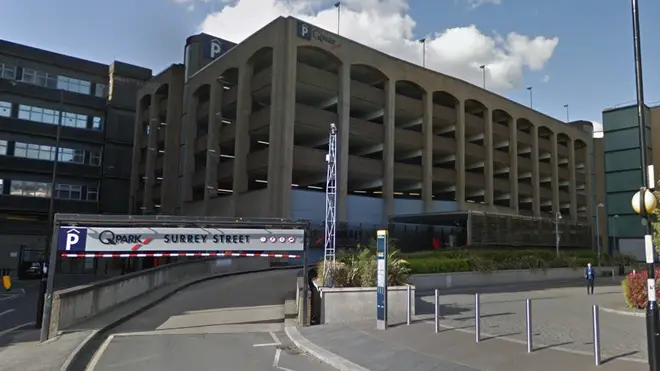 Jo told Rachael that she feels finding somewhere warm to sleep is a matter of life and death this week.
Rachael revealed: "Jo has just left. She was holding her new hat, gloves and a sleeping bag that Nightwatch had given her, but tears were pouring down her face, she's so cold."
Volunteers told us they were trying to get her help, but had had no luck so far. One volunteer Teri said: "One of the other team members tried several numbers, they tried a SNAP team in Croydon and left a message, they tried Streetlink but for all of these things you just leave messages. We haven't actually been able to speak to anybody official.
"I did speak to one of our organisers, and she said that the best that she could suggest was to say 'go to the local hospital' where you could go to the reception area where it will be warm."
Teri has been volunteering for around 10 years, she says it used to be different: "Five to ten years ago, we could ring the council when we had severe weather and they would get somewhere, people would be put in a B&B, that just doesn't happen now. You just can't get through to anyone at the council to get help."
Met Police statement read: "Whilst it would be wrong to comment on individual cases the issue of begging and rough sleeping is an issue across many areas of the UK. Police and Partners work together to support those sleeping rough whilst balancing the needs of the wider community.
"Support is offered by the local authority and many local charities with shelters and rest centres located in Croydon. These include Shelter, St. Mungo's, Evolve and Crisis. Croydon night watch and Croydon Churches also do great work locally supporting homeless people. The local police teams have been conducting patrols looking to signpost and rough sleepers found to agencies who can help them prior to and during this cold weather.
"Our collective support is particularly important during adverse weather. People sleeping rough may also have been reported missing and it is important that we understand the issues homeless people face before acting. Whilst we will continue to act robustly against aggressive or persistent begging officers are trained to listen and respond to individuals in crisis and as such respond to individual circumstances.
"In addition to this Croydon runs an operation around rough sleepers and people with substance misuse issues. It is chaired by the council and has all the charities and organisation that offer support in attendance with the Police. This means that any rough sleepers can be referred into this process and outreach workers are tasked with making contact. They are then assessed and help provided."