UK weather: 18 flood warnings in place as Storm Sebastian batters Britain
27 November 2019, 15:29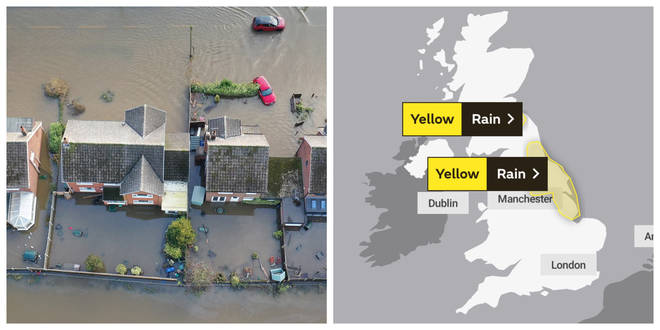 A number of weather warnings have been put in place as Storm Sebastian brings more rain to flood-ravaged areas of the UK.
A further 18 flood warnings have also been issued.
The three yellow weather warnings have been put in place across the south west of England, south Wales and north east England.
The warnings come as the Met Office predicts that north east England could see up to 40mm of rain on Wednesday, and the south west up to 10mm of rain.
The extreme weather is likely a result of Storm Sebastian, a tropical front which has been reading north east towards the UK form the Atlantic.
The Met Office have said: "One yellow weather warning in the South West of England is running through to midday today, with the South coast of Wales and South West of England to Portsmouth and Bath affected by rain.
"Approximately 10-20mm, and 30mm of rain is expected where the showers are most frequent, with the warning first issued at started at 6am on Tuesday.
"The weather, coming in from the west coast of Ireland, has brought in the wind from the low pressure area, and now it's time for the rain.
"This has been a long running warning, with watery showery outbursts, and there's still a few hours left of the rainy conditions."
They continued: "There will be persistent rain through the day today, turning heavy at times, with 10-20mm of rain in parts. Higher ground, such as in North York moors, could potentially expected 40mm of rain.
"However, do keep an eye on these warnings throughout the morning, which will be updated as the forecast develops."
The warnings come after more than half a month's worth of rain fell in a single day on Tuesday night.
In Suffolk, the worst affected area, 32mm of rain fell in just one day.
The average rainfall for the whole of November is 60mm.
Meteorologist Helen Roberts said: "There has been quite a wide-ranging spread of places where we had heavy rainfall, but we had a reasonably significant volume in Wattisham.
"For Wales, the 30.6mm was not that significant because the monthly average is 162mm.
"Most places saw some rain in the last 24 hours, and there is likely to be more on the way."