Yorkshire hills covered in snow as Met Office warns of weather chaos
16 December 2019, 21:44
The Met Office has issued "danger to life" weather warnings with snow set to hit Britain and 70mph winds also predicted.
Britain is set to face "unsettled and unpredictable" weather over the next week after snow and gales of up to 70mph are set to batter the country.
The Met Office has warned of weather conditions that will change "by the hour".
Snow has already fallen in Scotland and parts of northern England, with videos on social media showing coverings on the Yorkshire Moors.
Some areas were hit by as much as four inches of snow, with temperatures in Scotland expected to fall to -4C on Monday night.
Similarly, Northern Ireland is set to see a minimum temperature of 0C overnight.
The North of England has a risk of icy patches and minimum temperatures of -2 expected. In the south, temperatures are expected to sink to 1C, with frost and freezing fog likely.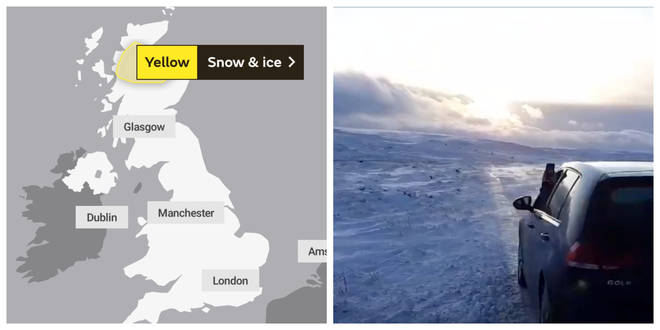 On Tuesday, Scotland has a weather warning in place for snow and ice, and on Wednesday severe warnings for wind are in place, with winds of up to 70mph expected to cause disruption.
Britain has also been told to brace for bitterly cold temperatures and freezing fog.
Temperatures are expected to fall below freezing overnight.
The Met Office said: "A spell of rain and hill snow is likely to affect many areas, with skies clearing at times to allow icy surfaces, although these won't affect all places.
"The snow is most likely above 200 metres elevation and probably focused in the north Pennines and into parts of Scotland; here it could affect a few lower lying areas."