CCTV Shows Man Leaping From Window After Murdering Girlfriend
3 August 2018, 15:08 | Updated: 28 October 2019, 15:21
Police have released shocking CCTV of a man leaping from a second storey window after stabbing his girlfriend to death.
Michael Marler of Brideoak Street, Oldham, has been sentenced to life in prison after being found guilty of the murder of 24-year-old Danielle Richardson.
Footage shows him leaping from a flat window and landing on top of a parked car in front of terrified onlooker.
He then jumped into the passenger's seat and assaulted a 59-year-old woman sat in the car.
Marler went on a rampage and assaulted a 24-year-old man as well as damaging a number of cars.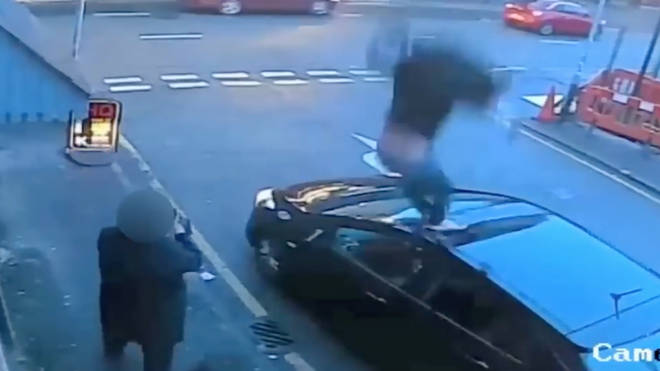 A court heard that moments before Marler had beat and fatally stabbed his girlfriend 15 times following an argument.
Senior Investigating Officer Bob Tonge, of GMP's Major Incident Support Unit, said: "The traumatic chain of events that stemmed from Marler's despicable actions brutally took away an innocent life and injured and traumatised many members of the public who had been going about their usual day in the city centre.
"The incidents unfolded in rapid succession as Marler went on a violent rampage but thankfully officers were on the scene in a matter of minutes and while he resisted arrest, police were able to detain him and prevent him from harming anyone else.
"Danielle was subjected to the most brutal attack at the hands of Marler. He showed nothing but rage as he relentlessly stabbed her body multiple times, leaving her with no chance of survival.
"Despite this terrifying and vicious attack, we know Danielle bravely tried to defend herself and fight for her life.
"The pain her family have had to endure since this day is truly heart-breaking and no family should ever be put through agony like this.
"I hope today's result goes some way to helping them move forwards from this horrendous ordeal and heal as a family."