Gang launch savage attack stamping and kicking homeless man
24 February 2020, 10:55
Warning: This video contains scenes that sme views may find distressing.
Shocking footage has been released of a gang attacking a homeless man in an unprovoked attack in Bristol City Centre.
Video footage shows one of the gang grab the helpless victim as Abdifathi Ibrahim, 20, jumps off a bin and unlashed a flying kick.
As the man falls to the ground other members of the gang pile in giving the victim a flurry of kicks, as they stamp on his head.
Once the attack is over the gang walk away, appearing to celebrate, as their victim lays on the floor in pain.
Ibrahim pleaded guilty the affray, which happened on March 4 last year.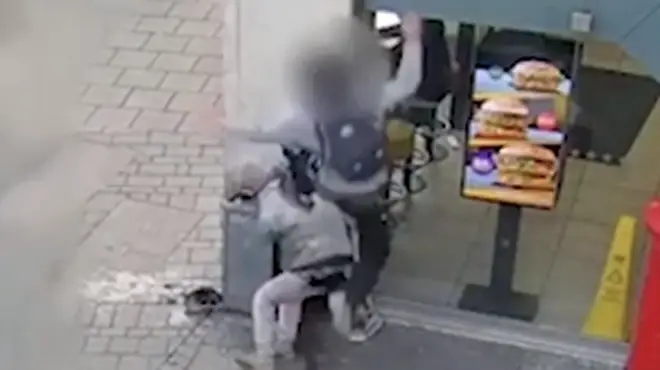 Ibrahim was jailed for four and a half years by Judge Euan Ambrose at Bristol Crown Court.
Another man and two youths who were part of the savage attack have been dealt with separately.
Prosecutor James Haskell told the court it was pure luck that the victim was not seriously hurt from the unprovoked attack.
Ibrahim also pleaded guilty to a separate incident of assault occasioning actual bodily harm, between March 20 and 24 last year, and affray on April 10 last year.