Masked Thugs Attack Car With Machete In New Chilling Knife Attack
5 June 2018, 13:22 | Updated: 28 October 2019, 15:21
Two masked thugs have been filmed ramming a car before jumping out and attacking the motorist's windows with a machete and a hammer.
The clip, filmed by an onlooker, is the latest in a number of recent violent attacks on motorists in Britain.
It begins with a silver BMW driving into a Toyota Yaris in Handsworth, Birmingham.
The bystander shouts "back up, back up" as the hatchback is lifted off its back wheels from being pushed up against a parked car.
Two balaclava-clad men then jump out of the car armed with a machete and what appears to be a hammer.
They begin hitting the diver's window and windscreen before making off from the scene.
The clip has been viewed more than 20,000 times since it was uploaded to social media on Monday.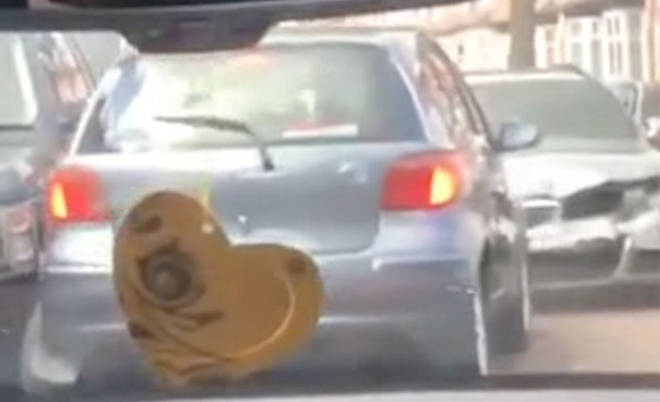 A West Midlands Police spokeswoman said: "Police investigating a collision and machete attack that happened on Antrobus Road, Handsworth, on Saturday, June 2, are appealing for information.
"A stolen BMW was involved in a collision with a blue Toyota just after 7pm. Two occupants subsequently attacked the Toyota with machetes and threw a hammer at the driver. He sustained minor injuries and went to hospital for treatment.
"The BMW was recovered a short time later, forensic analysis of the vehicle is ongoing.
"At this stage no arrests have been made but officers have been in the area conducting house to house enquiries and reassurance patrols.
"Anyone with information about what happened is asked to contact West Midlands Police on 101 quoting crime reference number 20BW/122780W/18."
The footage emerged amid a spate of violent attacks on motorists.
Police have charged a 17-year-old boy after a video clip appeared to show a cyclist trying to smash a car window with a large knife.
On Friday another machete-wielding thug was caught on camera chasing a man down the street in Castlemilk, Glasgow, before fleeing from police.
And yesterday Michael McIntyre was mugged by two men on a moped, who smashed the windows of his Range Rover with a hammer and stole his £15,000 watch.
The incident happened while the comedian was picking up his children from school in north west London.