Moped-Riding Thieves Snatch Phone From Pedestrian On Busy London Street
28 December 2017, 14:16 | Updated: 28 October 2019, 15:21
CCTV has captured the moment thieves on a moped snatched a phone from a pedestrian on a busy street in London.
The footage has been released today by police as a warning for users to keep new phones safe after Christmas.
Between 5 and 9 December 2017, 11 phone snatches were reported to City of London Police - five of which took place on the same night, the force says.
The video above, filmed shortly before 11pm on December 12, show a moped driving close to the curb before one of the riders steals the phone from the victim's hands.
The victim gives chase but the moped speeds on down the street.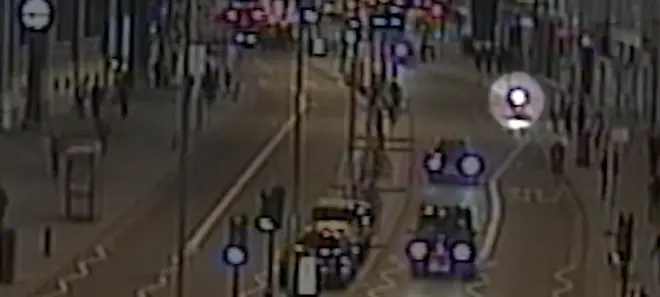 A second unsuccessful attempted snatch was also made on Primrose Street.
Last year, between December 2016 and February 2017, City of London Police received more than 100 reports of phone thefts – which amounts to thousands of pounds worth of stolen phones.
Phone snatchers are taking advantage of people who often have their focus elsewhere while they walk around with their phones out.
Det Con Hannah Knight from the City of London Police said: "If you use your phone when you're out in the street, be aware of what's going on around you.
"We are working hard to identify and catch those responsible but urge you to take some simple steps to help prevent your phone being stolen while you're out in the City."