The 90mph Street Race That Landed This Motorist In Prison
15 May 2018, 10:51 | Updated: 28 October 2019, 15:21
Dash-cam footage caught the moment two cars race past a waiting police car in Birmingham.
A man has become the first motorist to be jailed for breaching a ban on car cruising in the West Midlands after police caught him racing near Star City in Birmingham.
Atif Qasim was caught driving his VW Golf at more than 90mph by police, as he raced a BMW driven by Salad Hussain.
Both drivers were arrested and charged with breaching the city-wide court order, which outlaws street racing.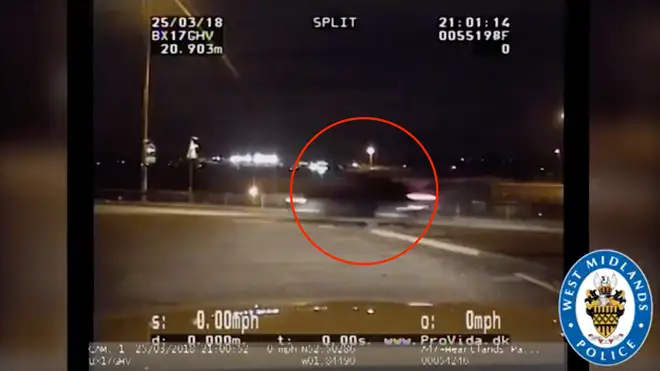 Hussain, aged 27, admitted the offence at court in April and received a suspended jail sentence.
But 20-year-old Qasim failed to turn up to court, and was later given a seven-month jail sentence and £726 fine after he was later rearrested.
The car cruising injunctions in Birmingham, Solihull, and the Black Country, mean anybody caught racing run the risk of being prisoned.
Other restrictions include riding in convoy, performing stunts, revving ending, blaring horns and playing loud music at vehicle gatherings.