Watch police catch bungling burglars hiding in tree
25 February 2020, 10:48
Watch as police catch two bungling burglars hiding in a tree and another is caught by a police dog.
Around twenty officers were involved in the chase, hunting down the trio who had just burgled properties in a village near to Harrogate.
Detectives say Abraham Fox, 28, Ross Sutcliffe, 29, and 48-year-old William Lowther fled on foot before being spotted by police helicopters which had on-board thermal imaging cameras.
North Yorkshire Police said the footage comes just 20 minutes after they had burgled the last of three farms they'd targeted in Plompton, near Harrogate, by snapping the locks to outbuildings in a bid to steal tools.
The trio had burgled the other two properties in the village moments earlier.
The video shows the moment Police Dog Bobby detains Lowther as he attempts to hide under a motorway barrier.
Moments later the helicopter captured the arrest of Fox and Sutcliffe after the pair were found trying to hide up a tree in fields next to the A1 having discarded their shoes.
48-year-old Lowther was found with a balaclava, a pair of gloves and two torches whilst discarded shoes and coats were found by the police dog shortly after.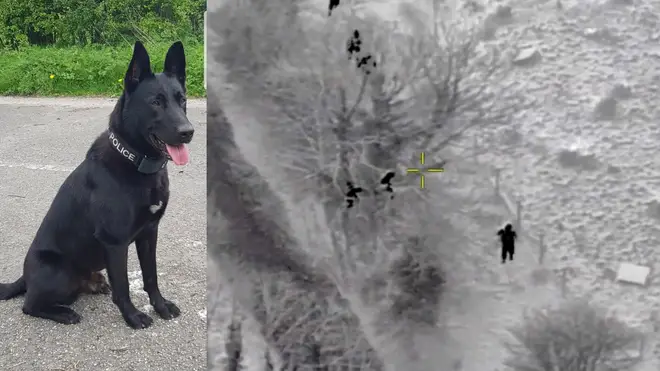 All three were arrested and appeared before the courts where they each pleaded guilty to three counts of burglary.
The trio were sentenced at York Crown Court, Fox of Rowanwood Gardens, Bradford and Sutcliffe of Stirling Crescent, Bradford were sentenced to two years and eight months in jail, and Lowther of Copgrove Road, Bradford was sentenced to two years and four months.
North Yorkshire Police's Commander for Harrogate and Craven, Detective Superintendent Steve Thomas, said: "It was an excellent result which demonstrated policing at it's very best – three arrested and suspected stolen property recovered.
"A huge thanks to all involved, and an extra mention to police dog Bobby who was celebrating his third birthday when he caught the first suspect running away and trying to climb over a 6ft fence, good lad."