Covid-19 booster jabs: Who is eligible and how can you book?
12 December 2021, 20:52 | Updated: 4 January 2022, 12:37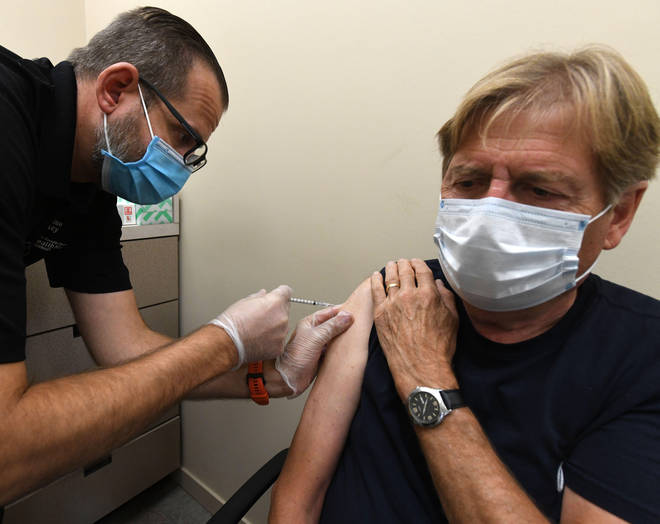 All adults in England will be able to book their Covid-19 vaccine booster to fight against the Omicron variant.
Who is eligible for a Covid-19 booster?
All adults will be eligible for a Covid-19 booster vaccine to ensure the greatest protection against the disease and new variants such as Omicron.
This means anyone over the age of 18 will be able to get their booster jab, with the Government aiming to offer a booster to all adults by the end of 2021.
This is earlier than the previous goal of the end of January.
Read more: All adults to be offered Covid booster jab to fight Omicron variant
When can I get my booster?
Previously the jab was only offered to those over the age of 40, and then it was due to be lowered to people aged 30.
Boris Johnson has confirmed all adults will be able to use the NHS service to book an appointment from December 15, and walk-ins will be available from December 13.
Those who are immunosuppressed should come forward for a fourth vaccine dose to act as a booster.
This is because those who are older or immunosuppressed are more at risk of getting seriously ill from Covid-19.
Read more: Downing Street confirms schools won't break up early for Christmas amid Omicron fears
How can I book my booster?
Those over the age of 18 will be able to get their booster jab three months after their second jab - shaving three months off the previous recommended time gap.
You will be able to either contact the NHS once they get in touch with you directly or you can secure your appointment online yourself. You can also call 119.
If you have tested positive for Covid, you will need to wait four weeks before booking your booster.
What vaccine advice is changing for children?
Children aged 12 to 15, who were previously told to only get one dose of the jab, will be advised to come forward for their second vaccine.
Those aged 16 to 17 who are not in an at-risk group should have already been offered a second dose of the Pfizer vaccine.
However, if you have not yet come forward you are urged to get fully protected. The second vaccine dose should be given 12 weeks or more following the first jab.
The JCVI has also now recommended that at-risk five to 11-year-olds get the coronavirus vaccine and a new formulation of the Pfizer/BioNTech jab has been approved for use.
In light of the regulator's approval, the Joint Committee on Vaccination and Immunisation (JCVI) is advising that children aged five to 11, who are in a clinical risk group, or who are a household contact of someone (of any age) who is immunosuppressed, should be offered a primary course of vaccination.
A primary course vaccination for these children should be with two 10-microgram doses of the age appropriate Pfizer formulation (Comirnaty) - a third of the adult dose, with eight weeks between the first and second doses.
Further advice regarding Covid vaccination for other five to 11-year-olds will be issued in due course after consideration of additional data, and on the Omicron variant more broadly.
Why is the advice changing?
Boris Johnson has said a third dose of the vaccine is the best defence against Omicron.
"No-one should be in any doubt: there is a tidal wave of Omicron coming, and I'm afraid it is now clear that two doses of vaccine are simply not enough to give the level of protection we all need," he said.
"But the good news is that our scientists are confident that with a third dose – a booster dose – we can all bring our level of protection back up."