Pub at Heathrow T4 slammed for 'pathetic' skewered £8.25 ham and cheese toastie
18 February 2020, 13:46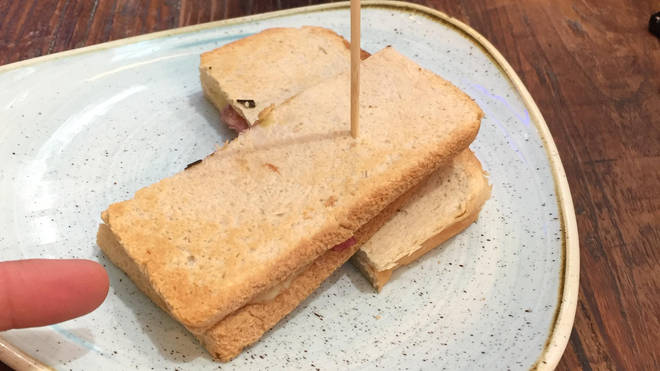 A hungry traveller who ordered a ham and cheese toastie has branded the sandwich "pathetic" and "a complete rip off" after it arrived with barely any filling and skewered with a long wooden stick.
Hannah Bennett was heading to Nepal on holiday with husband Henry, from Priddy, Somerset, when they stopped at the Prince of Wales pub in Heathrow Terminal 4 for some pre-flight lunch.
But the couple said they were left in stitches when they were served the "miserable" £8.25 toastie, which had "hardly any ham and not a lot of cheese either."
The "pitiful" sandwich has even garnered comparisons to the disastrous Fyre Festival catering by commenters online.
Mrs Bennett told LBC News: "The toastie was pretty thin, it had hardly any ham and not a lot of cheese either. It was mostly bread.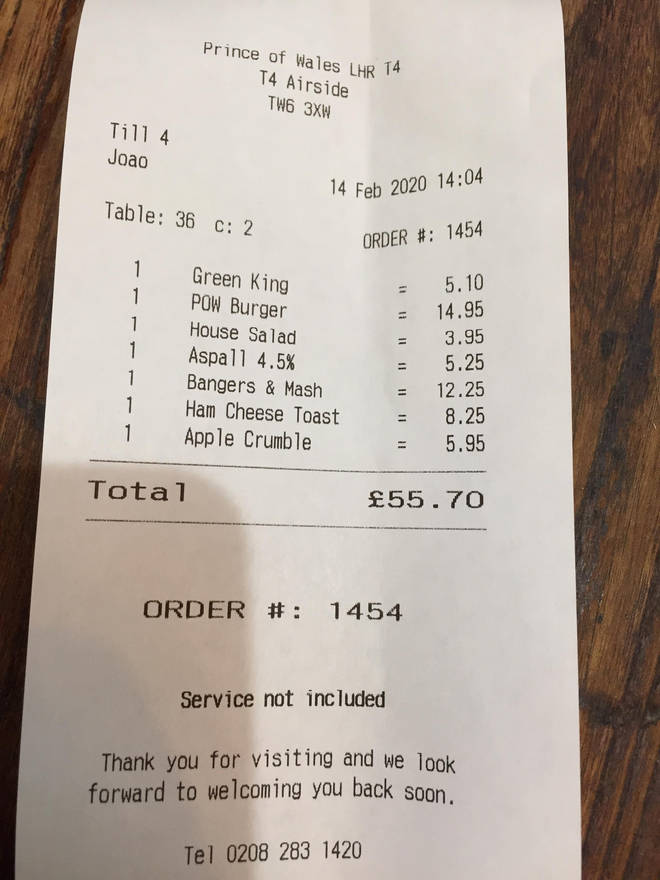 "For the price we expected chips and salad but apparently that costs extra! If we'd known we wouldn't have ordered it.
"The waiter was very nice and apologetic though.
"My husband has never had such a miserable meal. We expected to pay over the odds as it's a departure lounge but we actually laughed out loud when the plate arrived as it was so pathetic.
"He had to order bangers and mash to fill himself up as the toastie was terrible.
"We regularly use Heathrow and the same pub for food and we've never had an experience like this before.
"I've had poor food before places but just didn't expect something so pitiful for that price."
Facebook users said the toastie was "daylight robbery," while another asked "why do they think that's acceptable? How do they get away with it?!"
Another commenter branded the meal an "outrageous con," with one man saying it was a "disgrace."
A spokesperson from The Restaurant Group: "We are disappointed to hear that certain customers were not satisfied with their experience in one of our sites.
"We pride ourselves on value, quality and experience across our portfolio and so we will be looking into these specific comments."
In 2015, an airport passenger's 'sad' bacon and egg roll went viral.
A picture of the sarnie was posted on Reddit captioned: "This is what a £3.20 bacon and egg roll from Edinburgh airport looks like." The sandwich had a tiny piece of egg and bacon.
A spokesperson for Edinburgh Airport said at the time: "We work closely with all of our food and beverage providers to ensure we offer customers the best choice of refreshments and service. "