Black Friday: expert reveals how to get the best deals and avoid getting stung
28 November 2019, 15:04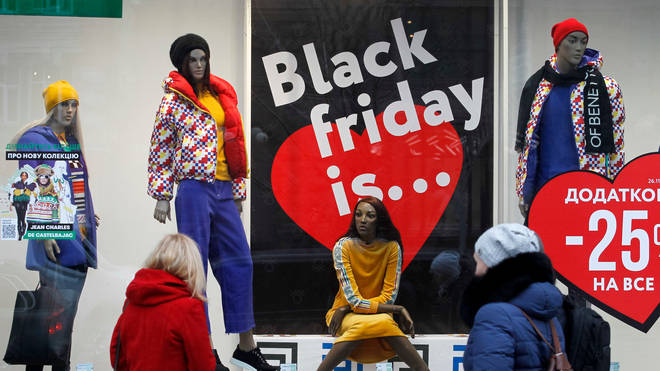 Shoppers are expected to spend a huge £5.6 billion over Black Friday and Cyber Monday this year.
Statistics show that only one in 20 Black Friday deals are actually cheaper during the sale than at other times of the year.
Ahead of this year's annual sales, retail experts have warned that there are "few genuine discounts" and for shoppers to be vigilant.
Jordon Cox, MoneySavingExpert's 'coupon kid', has given his top tips to get the most out of Black Friday:
He told LBC News the best ways to get the most out of Black Friday:
1) Write a list of what you want in advance and stick to it
2) Only buy what you can actually afford
3) Don't get caught up in the hype
4) Remember - it's not a deal if you never needed it in the first place
Jordon also gave advice to bargain hunters on the best way to separate the real deals from the fakes...
1) Always do a price comparison online - a quick google search will show you if it's cheaper anywhere else
2) If you're buying on Amazon, use a tool like CamelCamelCamel to check the price history of the item for the past 12 months
3) If you're buying elsewhere, PriceRunner will show the price of many products prior to Black Friday
3) If something has been cheaper previously, or is cheaper elsewhere, don't buy it
4) Use forums and Facebook pages which discuss deals to get second opinions on whether it's a good deal or a dud
5) If you're shopping in store, apps like ShopSavvy let you scan barcodes to compare deal prices with other retailers including Amazon and Argos
The expert's top deal suggestions:
1) Most of the biggest savings are almost always in tech and gadgets
2) The latest Amazon echo dot is at its cheapest price ever at just £22
3) The Nintendo Switch Lite is just £169.99 at Asda
4) Supermarkets are promising huge price cuts on Playstation and Xbox - the Xbox One is set to be just £109 at Tesco
5) Many large companies, such as John Lewis, will be enacting a "never knowingly undersold" policy - if you see it cheaper somewhere else, let the store know