Woman tells blind men that owning guide dogs is 'as cruel as cock fighting'
21 October 2019, 15:21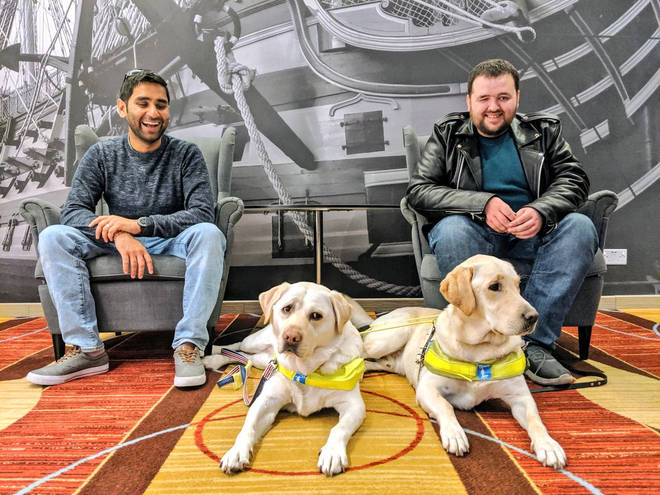 An angry animal rights activist who shouted abuse at two blind men told them they were "as bad as people who organise dog and cock fights" for owning guide dogs.
Dr Amit Patel and his friend Jonathan Attenborough were enjoying a drink at the Portsmouth Marriott Hotel bar following a speech given by Dr Patel about the welfare of service animals.
Their two golden Labrador guide dogs were "snoring on the floor" and enjoying some well-earned down time as the pair shared a beer at around 1am on Sunday morning.
But to the "shock" of the two men and several onlookers they were accosted by an animal rights campaigner who told them they "should be ashamed" of using dogs in this way.
Dr Patel told Global's Newsroom this was not the first time it had happened to him and that it had become "rife" in the last few months.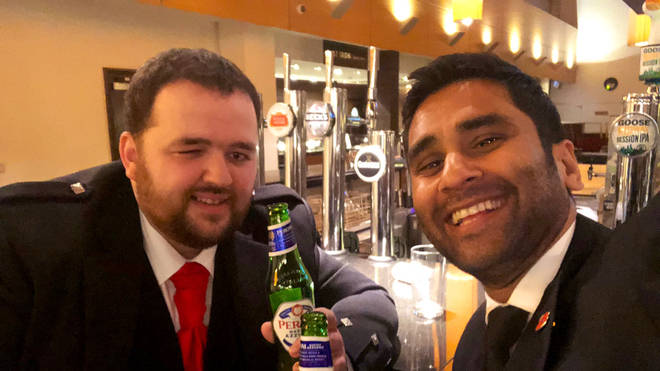 "I was presenting an award for an animal awards night in Portsmouth talking about the misconceptions around abuse," he said.
"Me and Jonathan were drinking at the hotel bar and were surrounded by members of the crowd who had been at the ceremony when the woman approached us and began yelling at us.
"I could feel the spit on my face as she was shouting. She was telling us we were as bad as people who organise dog fights and cock fights."
He said the experience was scary and intimidating as they were "two blind men with a lady shouting" at them, not knowing whether she was surrounded by others.
"Being visually impaired, we were relying entirely on what we could hear. I'm a confident guy but things like that put me in an uncomfortable zone. You don't want to provoke anything, but the woman wasn't up for a discussion."
She was eventually ushered away by her husband, with onlookers unsure whether what they had witnessed was part of Dr Patel's speech earlier in the night.
He told Global's Newsroom this had happened three or four times in the past, with animal rights protesters arguing that dogs do not give their consent to work.
However, he said it is a "misconception" that the pooches are "made to work."
"I treat them like I treat my kids," he added.
"Working dogs have a great life because they're with us all the time. They're never left home alone; they get exercise; they get outside and they get vaccinated."
I rely so much on Kika to keep me safe, just her presence gives me comfort. So it's great to see that she can turn to me for comfort too 🧔🏽🐶❤️👌🏾 @Kika_GuideDog

[video shows Kika resting her head on Amit's knee whilst they are on a noisy train] pic.twitter.com/FYiHRiBNP8

— Dr Amit Patel (@BlindDad_Uk) October 16, 2019
The healthcare worker said he needs an active dog who can be out of the house from 7am until 8pm and, more importantly, will enjoy it.
"If I don't go out she is constantly bothering me, poking me with her nose saying 'Daddy it's time to go,'" he said.
His five-year-old Labrador, named Kika, "won't work if she doesn't want to work" and gets given days off from the harness.
Dr Patel was concerned with the number of people who experience these types of confrontations and who ask if it really happens.
But he remained steadfast to the idea that guide dogs are necessary for the blind and Kika was a vital part of his and his family's lives.
"She was even in the room for the birth of my children," he said.