Boris Johnson arrives at Tory conference as no confidence threats grow
28 September 2019, 20:13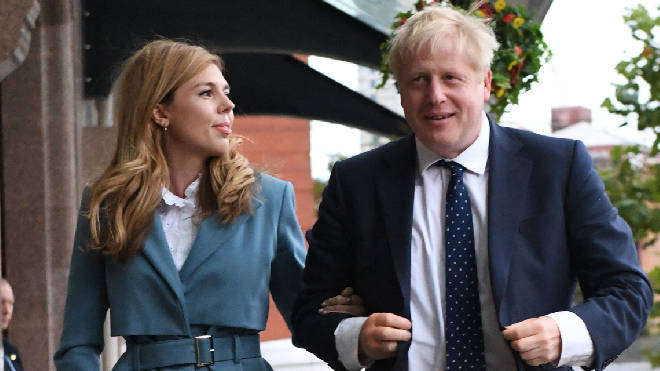 Boris Johnson has arrived in Manchester for the Tory party conference which faces being overshadowed by threats of a no-confidence vote in his government.
Mr Johnson will be keen to focus attention on his key pledges on crime, schools and the NHS in the build-up to an anticipated general election.
But he is facing controversy over being referred to the Independent Office for Police Conduct for his links to US businesswoman Jennifer Arcuri while he was London mayor.
Mr Johnson refused to answer questions about his political and personal battles as he arrived with girlfriend Carrie Symonds at the Midland Hotel ahead of the conference, which begins on Sunday.
A group of protesters gathered outside the high-security zone which surrounds the conference venue, and their anti-Brexit cries could be heard as Mr Johnson arrived.
"Boris is a liar" and "get your Johnson out of our democracy" were among the slogans chanted by the demonstrators.
Mr Johnson's defeat in the Supreme Court topped by his failure to win a vote in Parliament which would have allowed the Commons to go into recess for the conference.
This means Conservative MPs will be shuttled between Manchester and Westminster lest opposition parties chose that moment to schedule a vote.
In Westminster, opposition parties could stage a vote of confidence in the Government next week to try to stop a no-deal Brexit.
The SNP appear willing to back Jeremy Corbyn as interim Prime Minister to prevent that from happening.
The Prime Minister arrived at his Party Conference with his partner Carrie Symonds.
In one video, shared to social media, protesters can be seen booing Mr Johnson's motorcade as it arrives.
On Saturday Jeremy Corbyn called for opposition parties to 'come together' to prevent a No Deal Brexit and install him as a caretaker prime minister.
Mr Corbyn told Global's Newsroom that the collapse of Boris Johnson's government it is a case of 'when' not if, and he was bringing opposition MPs together to prepare for a general election.
Mr Corbyn said: "The opposition parties have to come together and I've been bringing them together in my office frequently now in order to prevent a No Deal exit from the EU.