Boris Johnson faces backlash over Jo Cox remark in Commons
26 September 2019, 08:34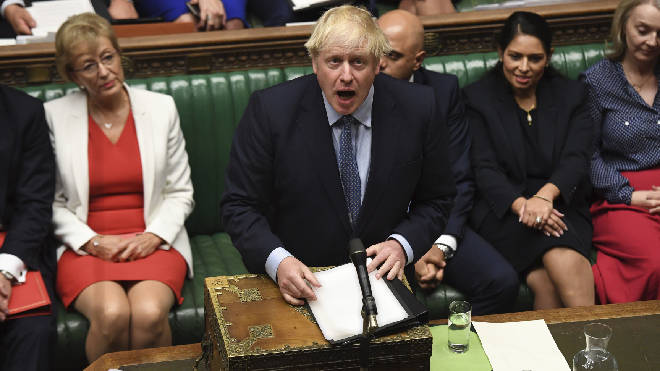 Prime Minister Boris Johnson has been criticised for telling MPs they should honour the memory of their murdered colleague Jo Cox by delivering Brexit.
The Prime Minister dismissed calls for him to stop using language like "surrender act" and "sabotage" when describing legislation designed to prevent ministers forcing through a no-deal Brexit on October 31.
During Wednesday's Parliamentary debate Mr Johnson sparked outrage with his comments after Labour's Paula Sherriff initially criticised him for his repeated use of the term "surrender act."
Mrs Sherriff said the Prime Minister had "continually used pejorative language to describe an Act of Parliament passed by this House".
She added: "We should not resort to using offensive, dangerous or inflammatory language for legislation that we do not like and we stand here under the shield of our departed friend with many of us in this place subject to death threats and abuse every single day.
"And let me tell the Prime Minister that they often quote his words 'surrender act', 'betrayal', 'traitor' and I for one am sick of it. We must moderate our language and it has to come from the Prime Minister first."
She added: "He should be absolutely ashamed of himself."
Her words prompted applause from the opposition benches.
These comments by Boris Johnson about Jo Cox are shocking.

He is whipping up division with language that's indistinguishable from the far right. pic.twitter.com/iKbIxbJxyc

— Jeremy Corbyn (@jeremycorbyn) September 25, 2019
Mr Johnson replied: "I have to say Mr Speaker I've never heard such humbug in all my life."
Mr Johnson said: "Of course there will be an attempt to try to obfuscate the effect of this Act, but it does - the Capitulation Act, or the Surrender Act or whatever you want to call it - it does, I'm sorry, but it greatly enfeebles, it greatly enfeebles this Government's ability to negotiate.
"But what I will say is that the best way to honour the memory of Jo Cox and indeed the best to bring this country together would be, I think, to get Brexit done."
Former Labour leader Ed Miliband said: "All of us need to take care of our language and none of us is at fault, but the Prime Minister of our country holds a special responsibility, and I say to members across the House, I spent four and a half years opposite David Cameron and I never saw a performance like the performance we saw last night from this Prime Minister."
He added: "Everyone in this House shares the frustration of the last three and a half years, in fact some of us didn't want the referendum to happen in the first place, but none of us can agree that the safety of members in this House should depend on the way they voted in this House."

In my 4+ years opposing David Cameron I never saw a parliamentary performance like tonight's from Boris Johnson: deeply irresponsible, stoking division, using dangerous, inflammatory language, fanning the flames of hatred. This is not about right and left but right and wrong.

— Ed Miliband (@Ed_Miliband) September 25, 2019
Jeremy Corbyn described the PM's language as "indistinguishable from the far-right", while Lib Dem leader Jo Swinson said Mr Johnson's language showed he was "totally unfit for office."
She said: "He heard the pleas of MPs, many of whom who have faced death threats, to moderate his language and dismissed their concerns with the same callous bluster that has become his trademark."

I know the PM is aware of & sympathetic about the threats far too many of us have received because I shared with him recently the threats I am getting. But at a time of strong feelings we all need to remind ourselves of the effect of everything we say on those watching us.

— Nicky Morgan MP (@NickyMorgan01) September 25, 2019
Liberal Democrat leader Jo Swinson said she has had to report a threat against her child.
Ms Swinson appeared to fight back tears as she told the Commons: "I today have reported to the police a threat against my child.
"That has been dismissed as humbug. This is a disgraceful state of affairs, and we must be able to find a way to conduct ourselves better."