Boxing Day footfall at its lowest level since 2009
26 December 2019, 10:48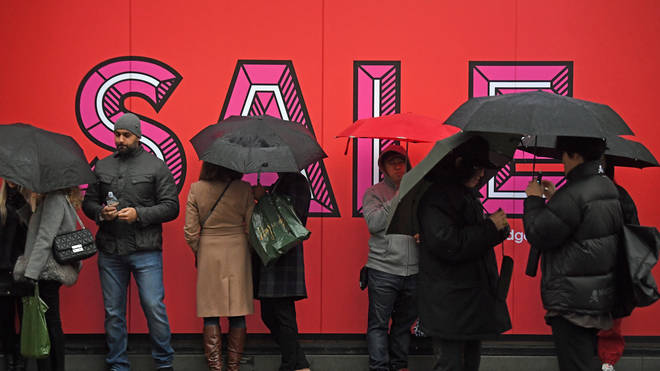 Retailers are expected to take a £200 million pound hit this Boxing Day, with footfall down 10 per cent in high streets and shopping centres.
The main reasons for this dip are thought to be environmental concerns surrounding the fast fashion industry and record breaking Black Friday spending.
67 per cent of people said they are planning to spend less on cheap clothes this year due to their environmental impact.
Retail experts Springboard said footfall had seen the largest decline of any year since 2009, a drop of 10.6 per cent.
A survey by Barclaycard also found that 62 per cent of shoppers will make less purchases overall for the same reason.
6 in ten adults surveyed said they will not even be attending the Boxing Day sales. Those that do hit the shops are expected to spend £186 each, a total of £3.7 billion overall.
Instead, online spending is expected to trounce in-store shopping, with 60 per cent on people making the majority of purchases from their home.
The news comes after 97 per cent of retail workers called for shops to be closed on Boxing Day.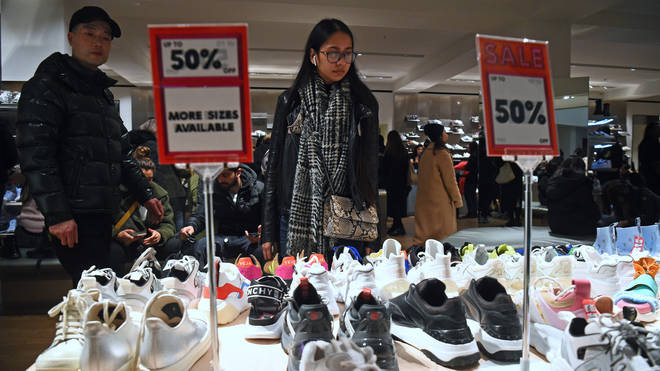 It is yet another hit for the high street, which saw a year of store closures, business failures and job losses.
Diane Wehrle, insights director at Springboard, said figures might improve slightly through the day, particularly if the rain stops, but they are still likely to be substantially down on last year.
She said: "This result reflects a number of underlying structural changes in terms of how consumers shop with more going online, the increased spending around Black Friday, the growing demand for hospitality and experience and the fact that the number of blended families means that many consumers are still celebrating Christmas on Boxing Day with their family.
"In combination, these changes mean that Boxing Day is indisputably a less important trading day than it once was."
Rob Cameron, chief executive of Barclaycard Payments, said: "Despite Boxing Day remaining a key moment in the retail calendar, savvy shoppers have been planning their large purchases throughout the entire festive sales period, which begins long before December.
"Our data for Black Friday and Cyber Monday revealed a huge jump in transaction volumes this year, so it's not surprising that consumers expect to have less money to spend after Christmas, so retailers need to take that into account.
"What's more, our research shows that shoppers are increasingly thinking about how their purchases impact the environment. Forward-thinking retailers should be making a conscious effort to demonstrate their commitment to sustainability, in order to boost their appeal and their revenue."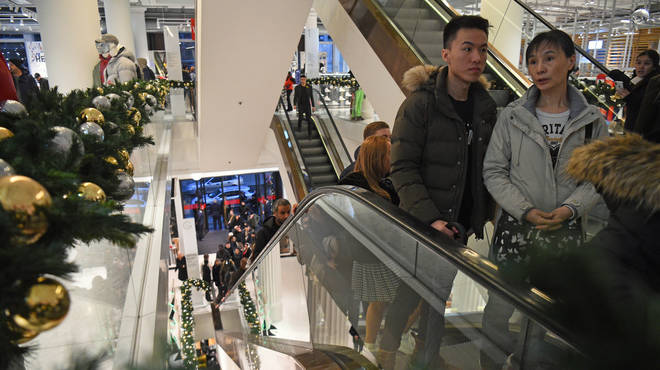 Despite the statistics, shoppers in Liverpool have headed out to grab the best deals, with more than 150 people outside the Next store before the doors opened at 6am .
Friends Hollie Gregory, 50, and Julie Lee, 51, from Wirral, Merseyside, said they had arrived at the Next store on Church Street in Liverpool at 5.45am and there had been about 160 people ahead of them in the queue before the shop opened at 6am.
Ms Gregory said: "We come every year, it's like a tradition, but we have been buying less as years go by because we're trying not to consume as much for environmental reasons.
"My children used to get piles of stuff for Christmas but now we try and limit it to three or four presents."
Sian Scanlon, 30, from Bootle in Merseyside, said she had arrived outside the Lush store in Liverpool at 6.30am, three-and-a-half hours before it was due to open.
She said: "It's 50% off all the Christmas gift sets so I'll spend about £200 and get about £400 worth of stuff.
"I get here at 6.30am every year and normally the shop doesn't open until 11am.
"I've layered up, so I'm not too cold!"
She said she expected the Lush shop to be "mayhem" once it opened.
Boxing Day shoppers also braved the rain in central London and Manchester to hunt for bargains.
Shoppers in Greater Manchester began queuing outside the Trafford Centre Selfridges store at 4.30am, while crowds began to gather outside the London branch at 6am.
Selfridges in Oxford Street was teeming on all six floors, with designer-clad customers picking out discounted high-end perfumes, shoes and clothes.
Among the first items sold were a Michael Kors handbag reduced from £590 to £290, and a Reformation dress with a 75% discount, making it £75 instead of £250.
Queues had snaked around several of the stores in Oxford Street before they opened at 9am, with shoppers huddled under umbrellas and sitting on bags waiting for the doors to open.
The early morning shoppers braved blustery conditions, with many sheltering from the rain under umbrellas.