Nigel Farage to stand as MP in next election
29 September 2019, 09:12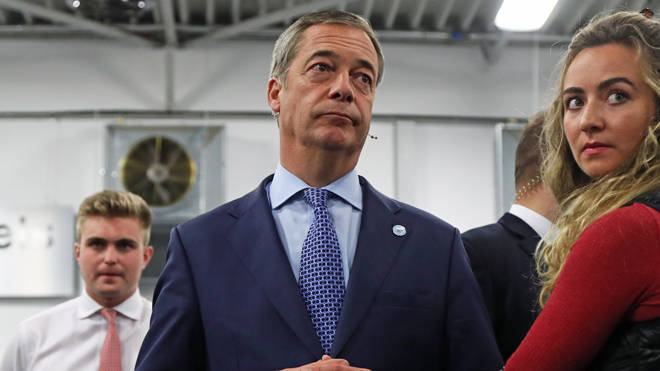 Nigel Farage has announce his intention to stand as an MP in the next general election.
The Brexit Party leader made the surprise announcement on Sunday morning, during the Sophie Ridge programme on Sky News.
Mr Farage's announcement came hours after the Brexit Party withdrew the whip from one of its MEPs over "a likely conflict of interest".
In a brief statement, the party said that the whip was being removed from West Midlands MEP Andrew England Kerr "with immediate effect".
"This is due to irreconcilable differences regarding a likely conflict of interest," the statement said.
Mr Farage told Sky News's Sophy Ridge on Sunday programme: "He is an MEP but he is also a shareholder in several businesses.
"In our view one or two of the things he has said and done as an MEP could be seen, potentially, to have brought him personal gain through his business. That to us is just not acceptable."
Mr England Kerr, 61, was one of 29 Brexit Party candidates elected in the European polls in May. A qualified solicitor, he previously set up a law firm and is a director of a firm that designs and supplies life-saving equipment.
The announcement comes amid criticism of the politician for his use of language at a Brexit Party rally in Wales, saying people should "take the knife" to Whitehall.
Speaking to a large crowd in Newport, Mr Farage said: "When the president of the port of Calais and the boss of the port of Dover tell you they're 100% ready for Brexit in whatever form it comes I suggest we listen to them.
"Not the overpaid pen pushers in Whitehall who are not doing a neutral job and once Brexit's done we'll take the knife to them. I've had enough of all of it."
In a tweet on Saturday morning, Mr Farage corrected his comments, claiming he meant to say "take the axe" meaning funding cuts should be made.
Gwent Police said it will not be taking action over the comments, but critics of the politician have said his language was unacceptable and incited violence against civil servants.
Assistant Chief Constable, Rhiannon Kirk, said: "We have received a number of comments and concerns from members of the public regarding a video that is circulating on social media.
"We are aware of the heightened tensions that exist regarding use of language, and take all allegations and concerns from members of the public very seriously.
"However, following a thorough assessment, it is our view that the comments in the video, do not constitute a criminal offence. As such, Gwent Police will not be taking any further action."
Mr Farage has stood for MP several times for UKIP, famously losing out to Commons Speaker John Bercow and a candidate in a dolphin costume.
The politician was an MEP for UKIP from 1999 until 2019, where he stood and won a seat in the European Parliament for the Brexit Party.