Brexit challenge barrister Jo Maugham says he battered fox to death
26 December 2019, 14:45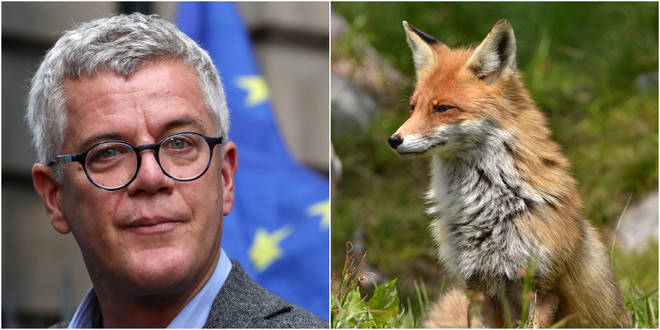 The RSPCA is investigating after a leading Europhile lawyer announced on Twitter that he killed a fox with a baseball bat on Boxing Day.
Jolyon Maugham, 48, sparked outrage on Twitter by saying he killed a fox in his garden in London this morning, after it got tangled in chicken wire.
The British barrister tweeted "Already this morning I have killed a fox with a baseball bat. How's your Boxing Day going?"
The RSPCA got involved in the Twitter thread, replying: "This is distressing to hear. We'd urge anyone with firsthand knowledge to report it to us by calling 0300 1234 999.
"We've been made aware of this and are looking into it."
Mr Maugham also described how he had been hungover and that he was wearing his wife's satin kimono as he killed the fox.
One Twitter user commented: "Couldn't you have sent for the RSPCA to untangle it and release it? Just because you keep chickens doesn't mean you have to destroy wildlife."
Mr Maugham replied: "I didn't especially enjoy killing it but I imagine that's what the RSPCA would have done, if they had anyone on call in Central London on Boxing Day."
Many Twitter users have asked for more details of the incident and some even suggested that the barrister may have broken the law as foxes are protected under a series of wildlife protection laws.
Already this morning I have killed a fox with a baseball bat. How's your Boxing Day going?

— Jo Maugham QC (@JolyonMaugham) December 26, 2019
Jo Maugham is the founder and director of the Good Law Project, through which he has played a key role in bringing to court a number of legal challenges to the Brexit process, which he opposes.
He is also one of the key figures in the prorogation case that began in the Scottish courts and declared Boris Johnson's decision to suspend parliament in the run-up to the October Brexit deadline as unlawful.
Mr Maugham later tweeted: "Sorry to those upset by my tweet. My chickens were very distressed by the fox - both before and after I'd despatched it - and I wanted it out of the way quickly."
He also tweeted: "No one should relish killing animals - and I certainly didn't. But if you haven't been up close to a large trapped fox, perhaps reserve judgment."
This is distressing to hear. We'd urge anyone with firsthand knowledge to report it to us by calling 0300 1234 999.

— RSPCA (England & Wales) (@RSPCA_official) December 26, 2019